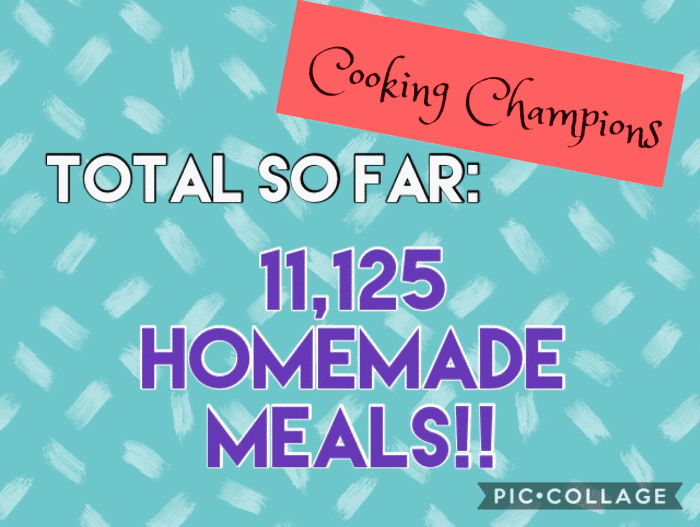 True champions! Cooking Champions have provided more than 11,000 hot dinners to people affected by Lockdown
Over the last three months the food-focussed social enterprise that Palmers Green resident Clare Donovan runs - on top of her job teaching maths in a secondary school - has expanded beyond recognition and now fulfils a vital role in feeding people who would otherwise go hungry. This weekend Clare is offering you a unique chance to cook your own gourmet meal while supporting the invaluable work of Cooking Champions.
A trained Leiths Chef, Clare was continuing with her day job but also happily supporting local vulnerable families with meals, cooking healthy takeaways, providing private dining and inspiring pupils at Highlands School through a community cooking project. But then Lockdown hit, and the 50 or so meals a week she provided for the homeless soon increased to 1000 a week as people in the local area and central London started to struggle more and more to find food and support.
Volunteers chopping, dicing, filling containers and just pitching in...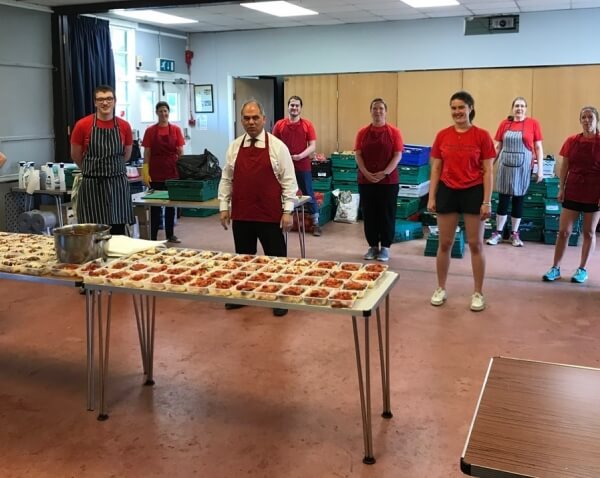 At the end of May Enfield Southgate MP Bambos Charalambous visited Cooking Champions at Winchmore Hill Cricket Club
On 25th May Cooking Champions celebrated hitting the 10,000 meal mark, and by early June the total was over 11,000! But, as Clare explains, she didn't do all this on her own:
"Ten thousand meals wouldn't have been possible without the army of volunteers who've been turning up week after week throughout Lockdown to chop, dice, fill containers, organise care packages and just pitch in wherever necessary.
"On top of that, we've had invaluable help from our partners. Love Your Doorstep have provided amazing people willing to turn up, collect care packages and deliver them across North London. We couldn't have produced anything like this volume of meals without the kindness of Winchmore Hill Cricket Club, who've let us use their premises and kitchen. And then there are the raw ingredients supplied by the Felix Project and the gorgeous ready meals that other restaurants have provided."
Cook your own gourmet three-course meal
One of the key volunteers who offered his services right from the start of Lockdown has been Elliot Jacobs, a young professional chef, living locally, who has worked in several highly regarded restaurants in London such as Clipstone, the 1 Michelin Star Social Eating House and latterly Bedales of Borough Market as Sous Chef.
As you can imagine, getting funding is one of the main struggles for social enterprises like Cooking Champions. Providing the number of meals that are needed, especially at such an unstable time, needs money, which is why Clare and Elliot came up with the idea of a Live Cooking Event. What better way to raise money and at the same time fill that void that many of us are experiencing when we're not able to visit our favourite restaurants?
On Saturday 13th June at 6.30pm, Elliot will be leading a three-course live cooking session and Clare will be providing matched gin cocktails. The menu has been carefully crafted so that it is fun and achievable yet teaches you new skills, like making home-made ravioli, under the careful guidance of experienced chef Elliot. For details, see the box below.
Starter: Salmon Crudo (featuring gin-cured salmon pre-prepared by Elliot) with a Charred lemon, Rosemary & Coriander Gin cocktail.
Main course: Handmade Goats Cheese Ravioli with a Cucumber and Mint Gin cocktail.
Dessert: Sticky Toffee Pudding with a Raspberry Sour Gin cocktail.
The price of the live cooking lesson plus a Q&A session with Chef Elliot at the end of the meal will be £20.
So that you don't need to queue up at your local supermarket and scour the shelves for ingredients, Clare has organised a beautiful fresh produce box from Borough Market containing all the key ingredients. Elliot is adding gin-cured salmon to that and other weighed out ingredients to cooking the meal stress- and hassle-free. The box will also prevent waste, as you won't be buying a huge quantity of coriander seeds or buckwheat that you'll struggle to use. The box is £20 per person, a huge saving and time saver for you. It can even be delivered if you live within a 2-mile radius of Winchmore Hill Cricket Club.
But don't wait too long! Clare needs people to get signed up now so that everything can be prepared in time for Saturday
If you are interested in this exciting event and wish to secure your place, please email Clare at
If you can't make Saturday's event, there's another way that you can help finance the work of Cooking Champions: you can make a one-off or regular donations using Golden Giving: www.goldengiving.com/wall/cooking-champions.