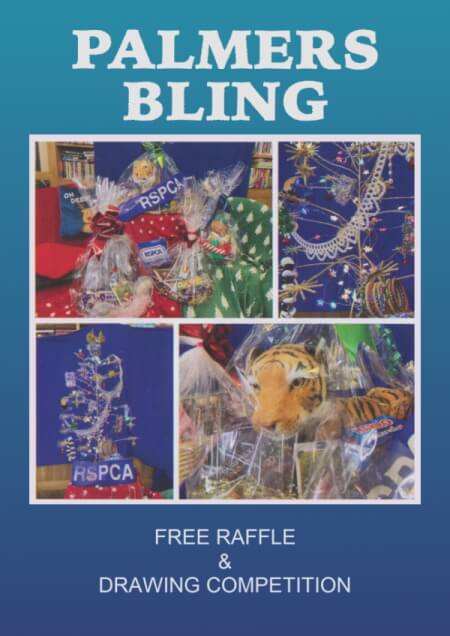 In the run-up to Christmas the 'Palmers Bling' charity shop is running a free raffle for adults and a drawing competition for children aged 16 or below. 'Palmers Bling' refers to the RSPCA charity shop at 389 Green Lanes, so called because the items on sale there include a large selection of costume jewellery.
To get a free raffle ticket you need to buy or donate an item in the shop between now and Friday 16th December; the draw will be held in the shop the following afternoon. Entries to the children's drawing competition must be submitted by a person over 18 on behalf of a young person aged up to 16 - no purchase or donation required.
Raffle winners will receive a £5 voucher for RSPCA charity shops - 28 in all. The first eight winners drawn will also receive a bag of assorted sweets and gifts.
To enter the drawing competition, children should design a poster showing how to keep pets safe at Christmas time. The deadline for entry is 1.30pm on Friday 16th December. The prizes will be bags of assorted sweets and gifts plus a £5 voucher.
Show full terms and conditions
Hide
Terms and Conditions
1.Promoter:
The promoter is RSPCA Central London Branch ("Promoter") of Box 145, 2 Lansdowne Row, London,W1J 6HL. Registered charity number: 248489
2. Competitions:
There are two competitions 1) Free Customer Raffle (the "Raffle") and 2) Children's Drawing Competition ("Drawing Competition"). Where these terms and conditions apply to both competitions, they will be referred to as the "Competitions".
3. Free Customer Raffle:
3.1 The Raffle is open to all customers over the age of 18 visiting the Promoter's shop located at 389 Green Lanes, London, N 13 4JG (the "RSPCA Shop") between 10 am on Saturday 26 November 2022 and 1.30 pm on Friday 16 December 2022. Each customer who makes a purchase or donates stock during that period will receive a free raffle ticket for the draw.
3.2 Winners will be drawn at 2pm on Saturday 17 December 2022 in a public draw at the RSPCA Shop, winners for all prizes will be drawn at random from the tickets allocated. Winning customers will be required to produce their winning ticket to claim their prize.
3.3 The prizes for the Free Customer Raffle are:
• Eight bags of assorted gifts and sweets as displayed in the RSPCA Shop including a gift voucher for RSPCA Central London Charity Shops to the value of £5
• Twenty (20) gift vouchers for the RSPCA Central London Charity Shops to the value of £5 (five pounds).
A ticket will be drawn at random for each available prize.
3.4 There is a limit of ten entries to the competition per household.
4. Children's Drawing Competition
4.1 The Children's Drawing Competition is open to all customers over the age of 18, entering on behalf of their child aged up to the age of 16 years. No purchase is necessary.
4.2 To enter the Children's Drawing Competition, children should design a poster showing how to keep pets safe at Christmas time. Parents should include their name (not the child's name) and their child's age on the reverse of the poster and take a photograph of the parent holding the poster.This photograph should be retained by the parent as proof of entry.
4.3 The Children's Drawing Competition opens at 10am on Saturday 26 November 2022 and closes at 1.30pm on Friday 16 December 2022 (the "Competition Period"). Entries received after this time are not eligible.
4.4 Entries should be submitted to the RSPCA Shop during the Competition Period. Entrants should ensure the parents name and child's age is included on the back of the poster.
4.5 Following the close of the Children's Drawing Competition, the Promoter will select seven winners. The winning entries will be selected on creativity, taking into account the child's age.
4.6 The prizes for the Children's Drawing Competition are:
Seven bags of assorted gifts and sweets as displayed in the RSPCA Shop plus a gift voucher for RSPCA Central London Charity Shops to the value of £5.
4.7 There is a limit of one entry per child.
5. Prizes:
Prizes are subject to availability.There is no cash alternative for the prize. The Promoter reserves the right to substitute the prize with a prize of equal or greater value.
6. Eligibility:
6.1 The Competitions are not open to employees or immediate families or households of the Promoter.
6.2 The eligibility for each competition is set out in sections 3, 4 and 6.1 above. In entering the Competitions, you confirm that you are eligible to do so and eligible to claim any prize you may win, and that you agree to be bound by these terms and conditions. The Promoter may require you to provide proof that you are eligible to enter the competition.
7.Winners and claiming prizes
7.1 The decision of the Promoter is final and no correspondence or discussion will be entered into.
7.2 Winners of the Competitions should claim their prizes in person at the RSPCA Shop during opening hours. Winners of the Free Customer Raffle should present the winning ticket to staff at the RSPCA Shop. Winners of the Children's Drawing Competition should show staff their photograph of the winning entry and confirmation of their name. The Promoter is not responsible for entries or tickets that are lost, mislaid or damaged regardless of cause.
7.3 The winning entries (ticket numbers and drawings) will be displayed in the RSPCA Shop from the relevant closing date until 31 January 2023. Prizes which are not claimed by 31 January 2023 will be re-allocated to a future competition.
7.4 The Promoter must either publish or make available information that indicates that a valid award took place.To comply with this obligation the Promoter will display the winning drawings and raffle tickets in the RSPCA Shop until 31 January 2023.
8. Limitation of liability:
Insofar as is permitted by law, the Promoter, its agents or distributors will not in any circumstances be responsible or liable to compensate the winner or accept any liability for any loss, damage, personal injury or death occurring as a result of taking up the prize except where it is caused by the negligence of the Promoter, its agents or distributors or that of their employees.Your statutory rights are not affected.
9. Data protection:
The Promoter will only process your personal information for the purposes of administering the Competitions and in accordance with its Privacy Policy.
I0. General
10.1 The Promoter does not claim any rights of ownership in your competition entry. You agree that entries to the Children's Drawing Competition may be displayed in the RSPCA Shops.
10.2 If there is any reason to believe that there has been a breach of these terms and conditions, the Promoter may, at its sole discretion, reserve the right to exclude you from participating in the competition.
10.3 The Promoter reserves the right to hold void, suspend, cancel, or amend the prize competition where it becomes necessary to do so.
10.4 These terms and conditions shall be governed by English law, and the parties submit to the non-exclusive jurisdiction of the courts of England and Wales.