Customers eating breakfast at Heritage Tea and Coffee in Southgate were surprised to find themselves in the company of a famous TV chef this week - except that "Gordon Ramsey" turned out to be lookalike Martin Jordan. "Gordon" was visiting the cafe, along with the Deputy Mayor of Enfield, Patricia Ekechi, to present its owner, Colin Johnson, with an award for Enfield's Best Breakfast 2015. His cafe had won the most recommendations from members of the public taking part in the campaign being run to raise money to help Young Adult Carers (aged 16 to 25).
"Gordon" prepares to tuck in at Heritage Tea and CoffeeThe next port of call for "Gordon", the Deputy Mayor and representatives of Enfield Carers' Centre was Baskervilles Tea Rooms in Aldermans Hill. Baskervilles are donating £1 to the charity for every breakfast they sell on Friday, Saturday and Sunday.
Other participants in the fundraising campaign include Emma Cooper - herself a carer, looking after a six year-old disabled son - who will be hosting a breakfast at home on Saturday 18th October. Enfield Council has done its bit by hosting breakfasts at the Civic Centre and encouraging its staff to donate. Statistics show that three out of every five people are carers, so many council employees know just how difficult juggling a job and caring responsibilities can be.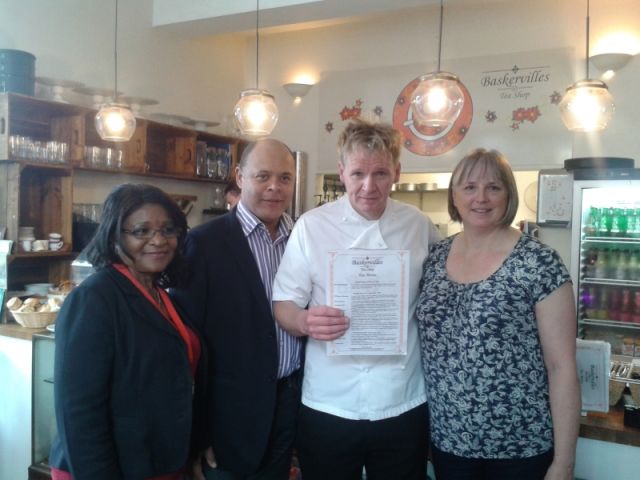 "Gordon" at BaskervillesPamela Burke, Enfield Carers Centre Chief Executive, comments: "We really appreciate the cafés who supported our campaign and also Emma for giving her time and energy to our charity. Unpaid carers need services like ours and all the money we raise will support them. Having "Gordon" and the Deputy Mayor support our campaign was the icing on the cake, or should I say the butter on our toast!"
It's not too late to make a donation: just text CCBB00 £2 to 70070.
For more information about Enfield Carers' Centre see www.enfieldcarers.org.