Saturday 22 January 2.30pm
Talk: Rethinking the Italian Experience of WWII + Trent Park Museum update
Online event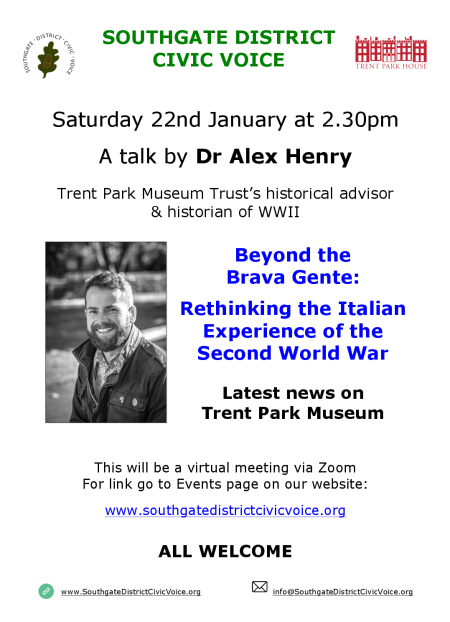 Southgate District Civic Voice (SDCV) Open Meeting, where Alex Henry will talk about 'Beyond the Brava Gente: Rethinking the Italian Experience of the Second World War' followed by an update on Trent Park Museum.
Dr Alex Henry is a historian of the Second World War and the Trent Park Museum Trust's historical advisor. His particular research interest is the conflict fought between the Allies and Fascist Italy, 1940-1943. This talk will be focused on this research, with an update on the progress of the museum.
There is a popular notion that the Italian armed forces of the Second World War were an inferior fighting force. Despite the vast numbers taken prisoner, detailed studies of the experiences of these soldiers remain relatively uncommon and the value of this group to furthering our understanding of the Italian experience of war under Fascism is also rarely acknowledged.
This talk will examine topics such as attitudes towards Italian political leadership, the progress of the war, as well as Italian soldiers' 'everyday' views on war, the enemy, death, food, their allies, bravery, race, and killing. Fascinating documents in the National Archives reveal the complexity of the outlook of these men, which persistent – and influential – national stereotypes and historiographical trends fail to acknowledge.
The Trent Park Museum when it is established, hopefully by Spring 2024, will tell the fascinating history of the house and its many distinguished owners and guests over the decades. But, it will also explain its special historic importance as the home of Britain's 'Secret Listeners' (MI19) who transformed the House and grounds into a state-of-the art surveillance centre listening to the German general POWs.
Alex Henry is a historian of the Second World War with particular research interests in the conflict fought between the Allies and Fascist Italy, 1940-1943. He completed his PhD, MA and BA in the Department of History at the University of Nottingham between 2010 and 2018. Since February 2021, he has been a Teaching Associate in Modern History within the Department of History (UoN).
In July 2021 his first monograph – War Through Italian Eyes: Fighting for Mussolini, 1940-1943 (Routledge) was published.
Tickets for SDCV members are free.
For non-members tickets only cost £5 (including a non-refundable booking fee). If you decide to join Southgate District Civic Voice, we will be happy to reduce the membership fee to £10 to reimburse the cost of this ticket.
Please note: if you register for tickets as a member of SDCV, your details will be passed to the membership secretary.
More details available at: https://www.eventbrite.co.uk/e/sdcv-rethinking-the-italian-experience-of-wwii-trent-park-museum-tickets-234276807237