This event was in the past. For current and future events visit our What's On Page.
Saturday 15 January 10.30am - 4.30pm
A DRESS IN A DAY! Learn to Make A Practical All-Seasons Pinafore Dress
Stitch! - inside Palmers Green Post Office, 364 Green Lanes N13 5XL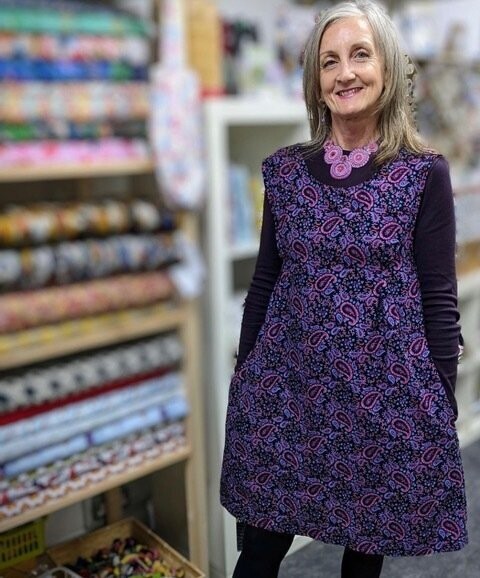 Learn To Make A Practical All-Seasons Pinafore Dress - With expert seamstress Pat Stevens
Join Pat Stevens, our expert resident seamstress and improve your sewing skills by making yourself a fabulous and versatile pinafore dress. This dress is suitable for all seasons and could be worn on its own or over another garment, come winter or summer.
This is an intermediate sewing class on how to accurately cut out and adjust a pattern to make an A-line dress with a zip and bound neckline and arm holes.
This workshop is will introduce you to the more advanced principles of dressmaking. Individual attention is assured with only 4 places be available.
THE SKILLS YOU WILL LEARN INCLUDE:
- how to use your measurements to adapt the dress to fit you
- cutting dress and binding pieces accurately
- how to sew darts to shape your garment
- how to insert a zip
- how to bind the neckline and armholes
- how to prepare and finish the hemline of a dress
DRESS PATTERN:
We will provide dress pattern measurements for you. Please send us your measurement 2-weeks before the class to allow us to prepare your individual pattern.
DRESS FABRIC:
You can bring along some fabric of your choice or purchase fabric in advance from the selection in our shop. Please allow for extra time before the workshop if you plan on buying fabric from Stitch! We recommend a medium weight fabric. Depending on what length you would like your dress to be and your size, you might need between 1.5 and 2m of fabric.
SKILL LEVEL:
This is an intermediate dressmaking workshop. You should already know your way around a sewing machine, and be able to thread the machine and load the bobbin and do forward and back straight stitching.
DATE: Saturday, 15th January 10.30-4.30pm (with allowance for a lunch-break)
COST: £75
SIZE: 4 people maximum. Individual attention assured.
LOCATION: 364 Green Lanes, Palmers Green, N13 5XL (entrance inside Post Office)
We will provide a cosy environment with sewing machines and refreshments!
PGC cannot guarantee that all What's On information is 100% accurate. If in doubt, we recommend you contact the organisers or visit their website using the More Details button.