This event was in the past. For current and future events visit our What's On Page
.
Sunday 15 August 2.00pm - 5.25pm
Broomfield Blues: Chicago Blues & New York Blues
Bandstand, Broomfield Park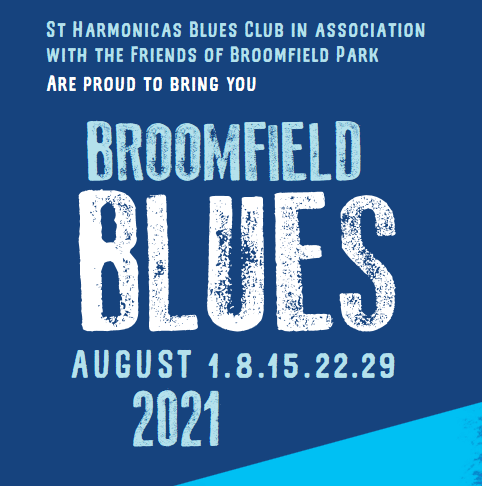 Palmers Green plays host to one of London's top Blues clubs - St Harmonicas, now hosted on Fridays at the fantastic Southgate Club. The club has twice been nominated as the UK's Best Blues Venue in the UK Blues Forum's annual awards. St Harmonicas Blues Club together with a host of collaborators and the Friends of Broomfield Park are delighted to bring you another month of August Sundays full of great blues artists and bands. We will also have a very fine ice cream stall, a terrific bar and glorious food.
To comply with Track & Trace and control numbers to provide a safer environment for audience, musicians and all our volunteers admission will be by ticket only. We have tried to keep ticket prices as low as possible so as many of you as possible can come along and enjoy the music. Tickets are just £7 with accompanied children under 16 free and are available through the Friends of Broomfield Park website. www.friendsofbroomfieldpark.org/broomfieldblues
Download the 2021 Broomfield Blues leaflet
---
Week 1- Sunday 2nd August: DOWN HOME BLUES
Two of St Harmonica's favourite bands kick-off the 2021 Blues season in the Broomfield Bowl with wonderful half-time support.
2:00 - 3:00 THE LOW DOWN DOGS
The Low Down Dogs combine age with acoustic and electric blues that meanders from the Mississippi Delta via Memphis and Chicago to the New River Delta! Mad Dog Dave Barnes possesses the best Blues voice in the business with a band to match comprising vintage players John Crowther, Dave Thomas and Pete Abernethy on drums.
3.15 - 4.45 BIG ALAN CRAIG
All the way from Aberdeen via Fox Lane comes the Big Man himself with an exciting set of self-penned and eclectic material. Expect him to be joined on stage by his Loon.
4.00 - 5.15 THE BLUES CHAPTER & FRIENDS
The Blues Chapter are simply one of the best bands around. A veritable explosion of talent they know how to tear up a stage better than some of those gnarled veterans of the scene. Jesse Thomas on guitar and Sky Wood on vocals with a set containing original, topical material as well as some searing Texas Blues reminiscent of SRV at his best.
Book tickets for Sunday 1st August
---
Week 2 - Sunday 8th August: SKIFFLE & ROOTS
2:00 - 3:00 THE LONDON BONNEVILLES
Original and top drawer skiffle covers from this London-based band who delight festival goers all over as they remind us of when skiffle was king and the debt we owe Lonnie Donnegan and others for bringing the blues to the UK. Guaranteed to bring a smile to your face.
3:15 - 3:45 GRAHAM HINE
Authentic slide guitar from one of Britain's best kept slide secrets. Former slide guitarist with the legendary Brett Marvin and the Thunderbolts Graham has a unique sound and repertoire of delta classics along with original material.
4:00 - 5:15 MARK HARRISON BAND
Mark Harrison brings refreshing originality and wit to the British Blues scene. His take on acoustic roots has led him to be nominated for a number of national and international awards as best performer and for best album. Mark's unique songs are attracting a lot of attention and he has established a growing reputation for the individuality of his music. He takes elements of blues and folk, adding his own twist to produce something totally original. See why Mike Harding described him as 'One of the British Isles' great blues singers and guitarists....totally and absolutely original'
Book tickets for Sunday 8th August
---
Week 3 - Sunday 15th August: Chicago Blues & NEW YORK BLUES
2:00 - 3:00 DOC K'S BLUES BAND
Possibly the finest purveyors of Chicago Blues in the capital. A bit like Trigger's broom the band has seen a few new handles and heads as the line-up has changed over this band's 50 years but it remains every bit as good as the original with a ridiculous pedigree. Mad Dog Dave Barnes provides searing vocals and slide guitar in tandem with Tim Hill on harmonica and vocals. The wonderful Mick Parker on drums keeps it all driving along, but as for the lead guitarist....some say he cannot be killed by conventional weapons, the incomparable Malcolm Hine, guitarist extraordinaire!
3:15 - 3:45 THE RIGHT REVEREND SWIFTY LEZARRE
Out of New York City, Swifty is an acclaimed member of the London scene and a firm favourite at St Harmonicas. Every third Tuesday of every fourth month he plays poker with the Devil and rarely loses. His take on the 2020 U.S. elections was a breath of fresh air during Lockdown. Expect irreverence and zaniness.
4:00 - 5:15 THE CUSTOMTONES
We make no apologies for bringing the Customtones back to Broomfield Park. They are just one of our favourite bands of all time. Martin Fieber is perhaps the UK's best kept slide secret and is not known as the Sultan of Slide for nothing He makes all his own guitars under his (Customtone' label and the tone and the sound he achieves is staggering; some of his original material is equally wonderful. The rest of the band are all masters of their instruments with Mick Parker on drums, Terry Duggan on bass and Steve Taylor on keyboards.
Book tickets for Sunday 15th August
---
Week 4 - Sunday 22nd August: BACK TO THE 50's & 60's
2:00 - 3:00 SHUFFLEPACK
First time for us at Broomfield Blues, Shufflepack provide good old fashioned Chicago and early British Blues the way it should be played. Comprising Storm Warning's Son Maxwell on vocals and harmonica with Derek White on bass this band provide entertainment the way we like it.
3:15 - 4:15 JC/DT
Mainstays of St Harmonica's Blues Club, John Crowther & Dave Thomas can often be relied upon to out-string their fellow musicians.
4:00 - 5:15 DEXTER SHAW & THE WOLFTONES
Born in 1950's London Dexter became a mainstay of the British Blues scene after sound engineering for Dr Feelgood. Dexter Shaw & The Wolftones were formed in the 90s before Dexter disappeared to rural France. He is back, and we are delighted, with terrific lineup, regularly playing in the UK and Europe and is considered one of the best out there playing that old school blues 50's style.
Book tickets for Sunday 22nd August
---
Week 5 - Sunday 29th August: CAN BLUE WOMEN SING THE WHITES? With apologies to The Bonzo Dog Doodah Band.
2:00 - 3:00 THAT BLUE PATCH
Quirky, eclectic jazzy blues from these stalwarts of live music in North London and beyond. Seasoned festival veterans who are sure to delight.
3:15 - 4:15 LAURA HOLLAND DUO
Laura Holland is a double award nominated singer-songwriter who we are delighted to welcome to Broomfield Park. With guitarist Antonin Vanneyre this is down and dirty blues as good as it gets.
4:00 - 5:15 BIG MAMA'S DOOR
Fronted by the irrepressible Fiona McEllroy this band swings like nothing you've seen at the park before. A dazzling combination of power and swing Fiona doesn't get back from Ireland as often as she used to so you need to catch this band whenever you can. Make sure you bring your dancing shoes.
(All timings, for all five Sundays are approximate)
Book tickets for Sunday 1st August
Book tickets for Sunday 8th August
Book tickets for Sunday 15th August
Book tickets for Sunday 22nd August


PGC cannot guarantee that all What's On information is 100% accurate. If in doubt, we recommend you contact the organisers or visit their website using the More Details button.
Upcoming Broomfield Summer Festival events

Click on names for details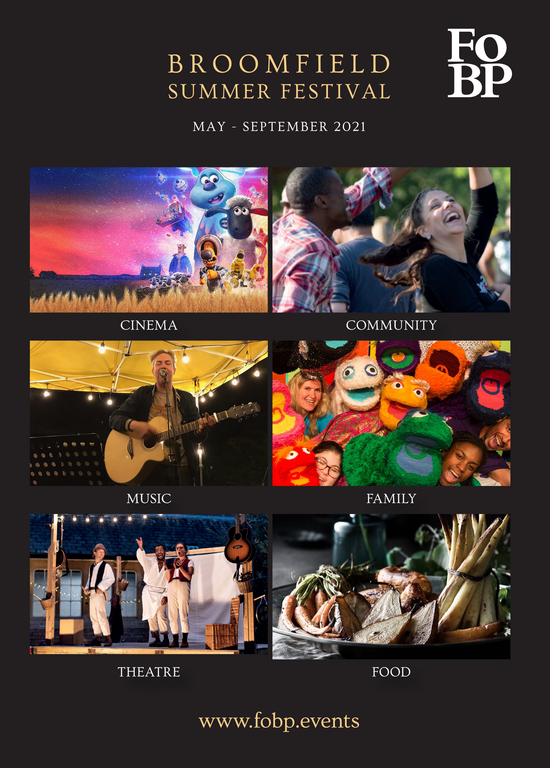 Thursday 23 September Zippo's Circus in Broomfield Park
Sunday 26 September Broomfield Conservatory open (Music in the Conservatory CANCELLED)