Broomfield Park Bike Market
Saturday 20 August 10.00am - 4.00pm
Broomfield Park, Aldermans Hill, N13 4PZ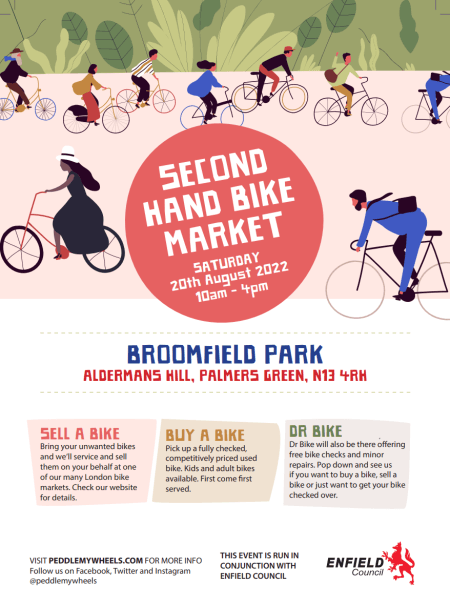 SELL A BIKE
Bring your unwanted bikes and we'll service and sell them on your behalf at one of our many London bike markets.
BUY A BIKE
Pick up a fully checked, competitively priced used bike. Kids and adult bikes available. First come first served.
DR BIKE
Dr Bike will also be there offering free bike checks and minor repairs. Pop down and see us if you want to buy a bike, sell a bike or just want to get your bike checked over.
Public bike markets are a great opportunity to pick up an affordable, serviced child or adult bike and/or to clear out outgrown and unwanted bicycles, earn a little money and in doing so create affordable bike stock for your community.
Sellers:
Bring some form of I.D. with you on the day
Bring your bike/s on the day between 10am and 4pm (please check times on individual times)
Complete the index card/s provided on the day with your personal details and add a sales price if you want to (remember the idea is to create affordable bike stock for your community). These are the details that go in to our system.
Your bike will get checked on the day and you will get an email with the price and any deductions needed for repairs
If you are not happy with the price or cost of repairs you must collect your bike by 4pm as we might be at the venue for one day only. We cannot return your bike once you have left it with us so please check your emails
The bike will probably not be sold on the day, unless we have time to service it, but you will receive an email after it sells at another market and 75% of the sales price less any repairs costs will be paid by bank transfer to you
Make sure you add your bank details to your Peddle My Wheels account so we can pay you when the bike sells
We do not accept plastic trikes or scooters
Please check our terms for your rights as a seller
Buyers:
The market is open from 10am - 4pm (please check times on individual markets)
You cannot reserve bikes, we sell on a first come basis
You can pay by card or cash
Please check our terms for your rights as a buyer
Visit www.peddlemywheels.com for more info.
PGC cannot guarantee that all What's On information is 100% accurate. If in doubt, we recommend you contact the organisers or visit their website using the More Details button.