Saturday 14 August
Broomfield Summer Festival: The Secret Garden
Broomfield Bowl, Broomfield Park, N13 4PZ
Time tbc
Bring a picnic and enjoy this brilliant new dance event, suitable for the whole family to enjoy together.
The Secret Garden is a completely new and original production based on the bestselling novel The Secret Garden, by Frances Hodgson Burnett, re-telling the story through classical music and dance.
The Secret Garden is a family friendly, immersive, unforgettable experience for all audiences.
Performed by an accomplished cast of dancers and musicians, the iconic story is brought to life like never before, in this high-quality, one-hour ballet. 
With a brand-new score and original choreography, The Secret Garden offers an enchanting, unforgettable experience for adults and children alike.
TICKETS:
ADULTS £15
CHILDREN 5-16 years £12
UNDER 5  FREE
FAMILY (2 AD + 2 CH) £45


PGC cannot guarantee that all What's On information is 100% accurate. If in doubt, we recommend you contact the organisers or visit their website using the More Details button.
Upcoming Broomfield Summer Festival events

Click on names for details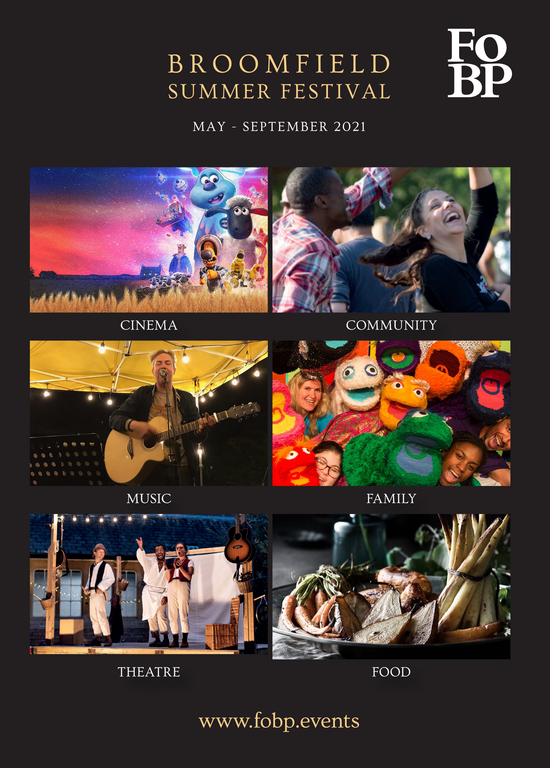 Saturday 31 July Open-air theatre: The Further Adventures of Dr Dolittle
Sunday 1 August Broomfield Blues: Down Home Blues
Saturday 7 August Open-air theatre in Broomfield Park: More Tales from the Shed
Sunday 8 August Broomfield Blues: Skiffle and Roots
Saturday 14 August Broomfield Summer Festival: The Secret Garden
Sunday 15 August Broomfield Blues: Chicago Blues & New York Blues
Wednesday 18 August Broomfield Summer Festival: Hexwood School of Sorcery
Saturday 21 August Broomfield Food Festival
Sunday 22 August Broomfield Blues: Back to the 50s and 60s
Thursday 26 August Coggers Funfair in Broomfield Park
Friday 27 August Open-air cinema: Farmageddon
Sunday 29 August Broomfield Blues: Can Blue Women Sing the Whites?
Monday 30 August Open-air theatre: The Miraculous Mis-Adventures of Robin Hood
Friday 3 September Talkies Community Cinema: Moulin Rouge
Sunday 5 September Open-air theatre in Broomfield Park: Romeo and Juliet
Tuesday 14 September Open-air theatre: Mr Stink
Sunday 19 September Apple Day in Broomfield Community Orchard
Thursday 23 September Zippo's Circus in Broomfield Park
Sunday 26 September Music in the Conservatory