This event was in the past. For current and future events visit our What's On Page.
Concert by the Fitzwilliam String Quartet in aid of Maxability
Saturday 22 July 7.30pm
19 Greenacre Walk N14 7DB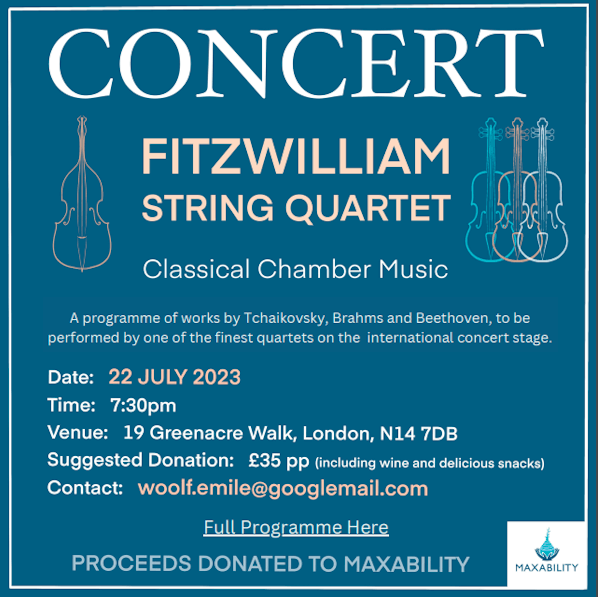 FITZWILLIAM STRING QUARTET
Lucy Russell (violin), Andrew Roberts (violin), Alan George (viola), Nicholas Roberts (cello)
The original members of the FSQ first sat down together, at Fitzwilliam College Cambridge, in October 1968, as undergraduates during their inaugural term. Their first concert appearance took place in Churchill College the following March, ahead of their public debut that June - making the Fitzwilliam now one of the longest established string quartets in the world - and almost unique in having passed a half-century with an original player, Alan George, still on board! The FSQ golden anniversary season itself included a concert back in Cambridge on 2nd March 2019, 50 years to the day after that debut performance.
After graduating from Cambridge in 1971 they succeeded the celebrated Amadeus Quartet as Quartet-in-Residence at the University of York. Several "Residences" followed and FSQ has even been granted its own annual chamber music festival in the famous "book town" of Hay-on-Wye.
International recognition came early for the FSQ, as the first group to record and perform all fifteen Shostakovich string quartets, drawing on the players' personal connection with the composer: he travelled to York to hear their performance of his thirteenth quartet. This musical friendship lasted until the composer's death in 1975, after which Benjamin Britten confided that Shostakovich had told him the Fitzwilliam was his "preferred performers of my quartets"!
The quartet has appeared regularly across the UK, Europe, North America, the Middle and Far East, and Southern Africa, as well as making many award-winning recordings for Decca, Linn, and Divine Art, including sets of the complete quartets of Beethoven and Schubert.
Tonight's Programme:
Johannes Brahms (1833-97) - Chorale Prelude, Op 122 No.8 [1896[ (preceded by a 1609 chorale by Praetorius)
Pyotr Ilyich Tchaikovsky (1840-93) - Quartet No.3 in E flat minor, Op 30 [1876]
(i)Andante sostenuto – Allegro moderato – Andante sostenuto (ii) Allegretto vivo e scherzando (iii)Andante funebre e doloroso (iv) Finale:- Allegro non troppo e risoluto – Quasi Andante – Vivace
INTERVAL
Ludwig von Beethoven (1770-1827) - Quartet in C sharp minor, Op. 131 (1826)
1: Adagio ma non troppo e molto espressivo 2: Allegro molto vivace 3:Allegro moderato - adagio
4: Andante ma non troppo e molto cantabile – Andante moderato e lusinghiero – Adagio –Allegretto – Adagio ma non troppo e semplice – Allegretto 5: Presto 6: Adagio quasi un poco andante 7: Allegro
Notes on tonight's music, supplied by Alan George
Brahms closed his career with a succession of shorter compositions. The rich, massive sonorities, an integral part of his language, gave way to a lucidity and simplicity of texture, with a hint of otherworldliness. His final opus was a set of 11 Chorale Preludes for organ, composed in memory of his beloved muse, Clara Schumann, who died in 1896, a year before his own death. Tonight we shall hear the quartet transcription the 8th Chorale Prelude.
Tchaikovsky is one of the least comprehensively understood of all the very greatest composers. Out of his immense output, we can identify about fifteen, virtually all orchestral, works that have achieved the popularity this self-doubting man could only have dreamed about. Other works that stand out include, of course, his five full-scale chamber works - only five - including his A minor Piano Trio (Op. 50), one of the greatest for that medium in the entire repertoire - and twice performed at Maxability concerts. The Quartet begins with an Andante sostenuto whose lilting violin melody remains in the memory long after the music is over, and it returns at the end of the movement. The heart of the Quartet is the Andante funebre e doloroso, it's mournful violin lament followed by a melody of the most poignant tenderness.
Beethoven, after Missa Solemnis and the "Choral" Symphony, might have drawn his career to an apocalyptic close in 1823 - but not Beethoven! Although at that time several other large-scale works were commissioned and planned, 1825 marks the beginning of his total withdrawal into the intimate private world of the String Quartet, and from this point until the end of his life he composed for no other medium! Op. 131 invites both listener and performer to muse over its "inner meaning" - indeed it has, over the years, drawn from a range of writers a stream of prose and poetic imagination: Eliot's Four Quartets; "I know of few things in music which seem so to transcend temporal existence"(Marion Scott); "in this music Beethoven seems to have escaped from the world of men and to have achieved utter spirituality" ( Roger Fiske). And many more.... Schubert asked specifically to have Opus 131 played to him 5 days before his death, and sighed "after this, what is there left for us to write?"
Concert Arrangements & Booking Procedure
Concert venue: 19 Greenacre Walk, Southgate, N14 7DB
Although we have disabled set-down arrangements, there is no parking in Greenacre Walk. However, there is ample free parking at weekends in Cannon Hill, Arnos Grove, The Green, and The Mall - all within a couple of minutes' walk.
The start time is 7.30 pm, and there is a 20-minute interval. Please aim to arrive at around 7.00 to reserve your places and enjoy a drink in the beautiful garden. Our concerts usually end before 9.30.
The standard donation to Maxability is £35 per person, which includes wine and delicious vegan snacks and dips before, during and after the concert.
To book your seats please send an email to
stating the number of places you require, which will be acknowledged by email. Please confirm your booking by making a bank transfer to Maxability (HSBC, Sort-code 40-45-27, Acc.22123606) – OR send a cheque payable to "Maxability" at the above address.
A private home is, of course the ideal place in which to hear "Chamber music", but places are limited and we recommend early booking.
Any queries, please get in touch – but meanwhile we send you our very fond greetings and look forward to seeing you again soon.
Anita & Emile
Emile Woolf
Treasurer
Maxability is a Registered Charity 1162002 and a Company Limited by Guarantee 06801476,
19 Greenacre Walk, London, N14 7DB
PGC cannot guarantee that all What's On information is 100% accurate. If in doubt, contact the organisers or visit their website using the More Details button.