This event was in the past. For current and future events visit our What's On Page.
Concert in aid of Maxability: Alexander and Nathaniel Boyd
Saturday 25 November 7.30pm
19 Greenacre Walk N14 7DB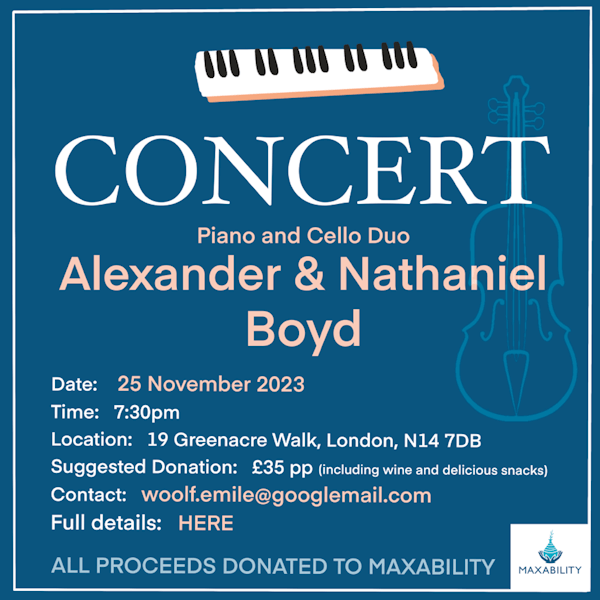 MUSICIANS
Alexander and Nathaniel Boyd, piano and cello duo
PROGRAMME
1 - Beethoven: Sonata for Cello & Piano, Op. 102, no.2 in D Major (1815)
Beethoven's Sonata for Cello and Piano in D Major, Op. 102, No. 2, is a ground-breaking work that heralds the composer's late period. The first movement of the D major Sonata shows evidence of the new possibilities available in cello writing, with a singing, dolce first subject. The Adagio is the first real slow movement of these Sonatas. Its main melody is rather restrained, almost introspective. It leads in to the finale without a break, and after a few tentative bars the movement-proper arrives in the form of a fully- fledged fugue. In fact this is the first occasion where Beethoven uses a fugue as the entire basis of a movement (instead of merely incorporating fugal writing). It is also the first example of the contrapuntal thinking that was to dominate his final years. It's a late work, and the final fugue serves as a forewarning of what's to come in the late Piano Sonatas – notably Op 106 (Hammerklavier).
2 - Brahms: E Minor Sonata for Cello and Piano, Op. 38 (1862 – 1865)
Johannes Brahms' Sonata for Cello and Piano in E Minor is a cornerstone of the cello repertoire. The first movement, "Allegro non troppo," is a rich tapestry of lyrical themes and intricate counterpoint, showcasing the cello's wide range and expressive capabilities. The second movement, a minuet and trio, pays homage to the classical tradition and serves as a lyrical interlude before the final movement. The third movement, "Allegro," is particularly noteworthy for its fugue, a complex and intellectually rigorous form that Brahms admired in the works of J.S. Bach. This fugal section adds a layer of structural and emotional complexity to the sonata, making it a masterpiece of both form and feeling.
3 - Prokofiev: Sonata for Cello and Piano in C Major, Op. 119 (1949)
Sergei Prokofiev's Sonata for Cello and Piano in C Major is a work of striking contrasts and vivid character sketches. The first movement, "Andante grave," is a deeply emotional and introspective piece, featuring long, lyrical lines for the cello that explore the instrument's full expressive range. The second movement, "Moderato," is a playful and rhythmically complex section that showcases Prokofiev's unique harmonic language. The final movement, "Allegro ma non troppo," is a rondo that brings the work to a spirited and optimistic close. Throughout the sonata, Prokofiev challenges both the cellist and pianist with intricate passages that require technical mastery, making it a rewarding piece for both performers and listeners.
Once you have received a confirmation of your booking, send a cheque payable to Maxability (19 Greenacre Walk, N14 7DB) or make a direct bank transfer (bank details will be emailed to you with your confirmation).
Please support us by signing a Gift Aid form either at the concert or online if purchasing ceramics or making a donation.
Please click here to support us with a donation.
More information about booking and
concert arrangements
PGC cannot guarantee that all What's On information is 100% accurate. If in doubt, contact the organisers or visit their website using the More Details button.