Discover the Pymmes Brook: Free guided walk and talk
Sunday 17 July 10.30am - 4.00pm
Register to find out the meeting point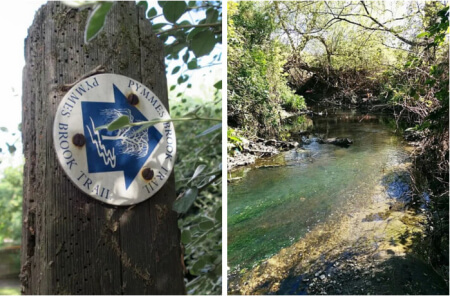 Come to a FREE walk-and-talk along the Pymmes Brook in Upper Edmonton and Edmonton Green and explore our local river!
Join us on a FREE, friendly, guided walk to find the 'real' Pymmes Brook!
We will explore a stretch of the Pymmes Brook as it flows east of the Great Cambridge Roundabout. We want to hear what you think about the river, how well you know it, what it means to you, and what it feels like to discover new stretches of this vibrant river. Together, we'll be making a film about the Pymmes Brook and its people.
EVERYONE is welcome and priority will be given to people who live in Upper Edmonton and Edmonton Green. Children must be over 8 and all under-18s must be accompanied by an adult. Places are strictly limited so book early!
This walk is approx 7km and includes steps and uneven ground. Our pace will be relatively brisk so that we cover the distance, but we will be stopping to look, talk, and have lunch. Should you wish to join us for just part of the walk, let us know and we can advise about best places to 'leave' the walk to access public transport.
Wear sturdy shoes, dress suitably for the weather and bring packed lunch and drinking water! Start 1030am, finish at 3-4pm. You will be invited back for a FREE celebration event and screening of the film.
Meeting point and other details when you register!
This walk is organised by the Pymmes BrookERS, a volunteer-run community group that looks after the Pymmes and Salmons Brooks.
This project is supported by Enfield Council and the Heritage Lottery Fund.
PGC cannot guarantee that all What's On information is 100% accurate. If in doubt, we recommend you contact the organisers or visit their website using the More Details button.