Saturday 18 September 3.00pm
Enfield People's Theatre: If Not Now, When?
Palmers Greenery Community Café, Broomfield Park, Aldermans Hill, N13 4PL
You are invited to join Ms Deliveroo and her friends as they set off cycling on their eco journey up to COP26 to witness our World Leaders solve the Climate Emergency. But will they manage to get there? Do they even manage to get past the Edmonton Incinerator? The very elements seem to be against them as they battle through floods, pollution, droughts and even fire, in their intrepid bid to get to Glasgow. Their journey is further hindered by the ever present Mr and Ms Greenwash who intercept Deliveroo at every turn and spin her their all too believable greenwash lies. At last, it dawns on Deliveroo, she cannot rely on World Leaders to save the planet and, with the vital help of people in the audience, she begins to ask the right questions. If not now, when?
This interactive outdoor community play urgently requires a loud and active audience of children and adults. Please join us on Sat at 3.00 p.m. in Broomfield Park at the cafe.


PGC cannot guarantee that all What's On information is 100% accurate. If in doubt, we recommend you contact the organisers or visit their website using the More Details button.
This event is part of Enfield's Big Green Climate Festival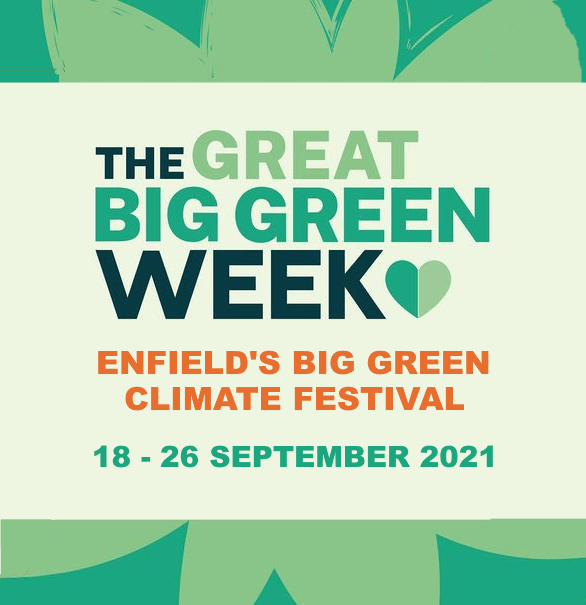 In September EnCaf (Enfield Climate Action Forum) is embracing The Climate Coalition's Great Big Green Week to organise "Enfield's Big Green Climate Festival" - a huge call for action on climate change. Join us in the greatest, biggest, greenest week of action the UK has ever seen!
Ahead of the UK hosting the UN Climate Summit in November (COP26) we want to show decision makers that people from all walks of life are stepping up to take action on climate change - and want them to step up too.
Enfield's Big Green Climate Festival will take place from the 18th to 26th September. Part of the national Great Big Green Week, there will be activities, talks, walks and webinars. Check out our website for up-to-the-minute festival information. And let us know if you'd like to get involved.
Together we will show our communities, local decision makers and the UK government that it's time to step up.