This event was in the past. For current and future events visit our What's On Page.
Sunday 15 May until Sunday 22 May
Free exhibition: Mental health and art
Culture Palace, Palace Gardens Shopping Centre, Enfield Town, EN2 6SN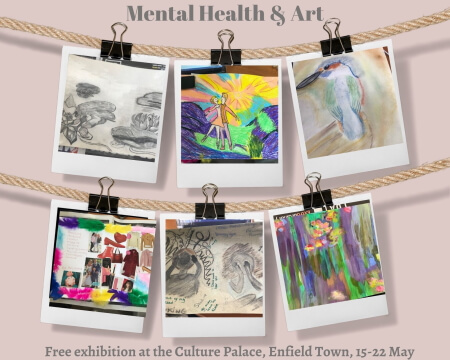 Between Sunday 15th and Sunday 22nd May you will be able to view wonderful pieces of art created by individuals who experience Mental Health issues.
This small exhibition opens from 11.30am- 4.30pm Sunday and from 9.30am to 5.30pm Monday to Saturday; it can be viewed at the Culture Palace in the Palace Gardens precinct in Enfield Town.
The art being displayed is often created for pleasure but sometimes, for sufferers of Mental Health issues, it also forms part of an Art Therapy healing process.
Art therapy is a form of psychotherapy that uses art media as its primary mode of expression and communication, being used as a medium to address emotional issues which to the artist maybe confusing and distressing.
If you have concerns about your Mental Health Wellbeing you can speak to your GP or there are a number of voluntary organisations that can support you.
Enfield Clubhouse - www.enfieldclubhouse.org.uk/ Tel no 020 8373 6387
Mind In Enfield - www.mindeb.org.uk/ Tel No 020 8906 7506
Wellbeing Connect – www.wellbeingconnectservices.org Tel No 020 8803 2200
PGC cannot guarantee that all What's On information is 100% accurate. If in doubt, we recommend you contact the organisers or visit their website using the More Details button.