Friday 22 October 8.00pm
Friday Night Funnies @ Chickenshed
Chickenshed, Chase Side, Southgate, N14 4PE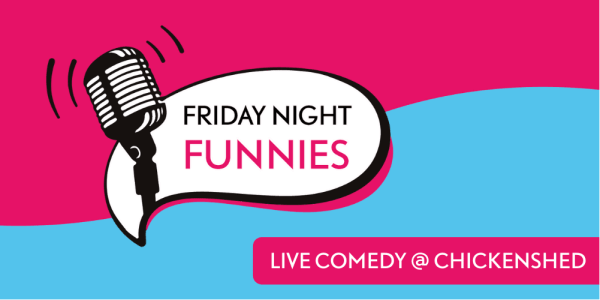 Friday Night Funnies at Chickenshed
Venue:            Chickenshed Theatre, Chase Side, Southgate, London N14 4PE
Dates:              Friday 22 October
Times:             Bar opens 7pm
                        Comedy from 8pm – 10.30pm (including interval)
Ages:               16+ (adult material, themes and language)
Tickets:            £10
Please note... Half-Price Comedy Cocktails available from 7pm!
Fully licensed bar and bar snacks available.
To book telephone Box Office 020 8292 9222, email or visit
https://www.chickenshed.org.uk/Event/friday-night-funnies
Comedy Shed has a fresh new look as we play host to Resistance Comedy! Our Friday Night Funnies promises some of the best and brightest comedy performers around!
Lateef Lovejoy
Multi Talented Actor, Stand Up Comedian And One Of The Most Distinctive Acts On The Mainstream And International Comedy Circuits. He Is The Face Of Itv Hub And Was Head Hunted To Be The Official Mascot Of U Switch, Playing The Role Of 'coach' Seen Across Tv And Major Digital Platforms.
Michael Akadiri
Michael is a fast rising, multi-award winning comedian. His natural charm and cheeky, observational style has already seen him make an impact on the UK comedy scene, most recently winning the Komedia New Comedian of the Year award.
Michael performs at the top comedy clubs in the country including the Comedy Store, Glee Club and Up The Creek. He has also already performed at high profile events for Apple UK and Newton
"A sharp-witted everyman… charismatic and in effortless control." CHORTLE
Jerry Bakewell
Britain's most unsuccessful Mexican wrestler. Weighing in at 17-and-a-half stone, Jerry Bakewell is Britain's most unsuccessful Mexican wrestler and Europe's heaviest light entertainer. Winner of the 1993 Les Dennis Bravery Award, Jerry was recently described as a laugh every other minute, following a one-and-a-half minute set.
Rajiv Poojara
if you were to look at Raj, you'd think what most people think… where the hell is he from? Once you get to know him (and his love for saving money wherever possible), you can easily establish that he's Indian. Born & bred in London, Raj is the only son and youngest child. His parents had two children, you know, of which one didn't work out. They were proud when their only son passed his A-levels and went on to study Economics at University. They were even more proud when he graduated and became a Private Banker.   So, the obvious next step was to become a comedian…
Roman Harris
"Roman Harris is an up and coming comedian, having started in comedy in 2019, his ability to story tell and weave together anecdotes and observations gives an audience quite the experience"
Faye Treacy
Faye Treacy is a comedian, presenter and musician. Born in Croydon, South London, Faye had a relatively normal childhood till she was sent to the local Convent. Five years later upon getting kicked out of her Convent school (for putting the Convent on Ebay), she packed her bags and went to the Brit School of Performing Arts. Realising she never wanted to be a Pop Star she went onto to study trombone at the Royal Academy of Music.  Always being a keen fan of John Cage, she always wanted to try comedy, so after being forced on stage by a comedian housemate she decided to give it a go and went on to win 'Best Newcomer' at the Musical Comedy Awards in 2015.  Since then her comedy career has rocketed, seeing her perform internationally at venues including: The Frog and Bucket, XS MALARKEY, The Stand, Top Secret, 99 Club, The Glee Club, Angel Comedy Club, Utrecht International Comedy Festival, Edinburgh Fringe and Leicester Comedy Festival.
Kelly Mcinerney
Kelly regularly performs stand up all over the LA area as well as touring the throughout the country, crushing clubs like The Punchline, the Improv, and Comedy Works. She's even toured throughout Mexico including Baja and Mexico City.
Kelly brings a dark self-deprecating, brutally honest humor that anyone in the world can relate to and laugh at least a little bit. She will be traveling to the UK in October and is looking to make the other side of the pond laugh, too!
PGC cannot guarantee that all What's On information is 100% accurate. If in doubt, we recommend you contact the organisers or visit their website using the More Details button.