Monday 24 January
Mumsing - the choir for mums
St. Stephen's Church Hall, EN1 2BA (mornings), Enfield Baptist Church, EN2 6TG (evenings)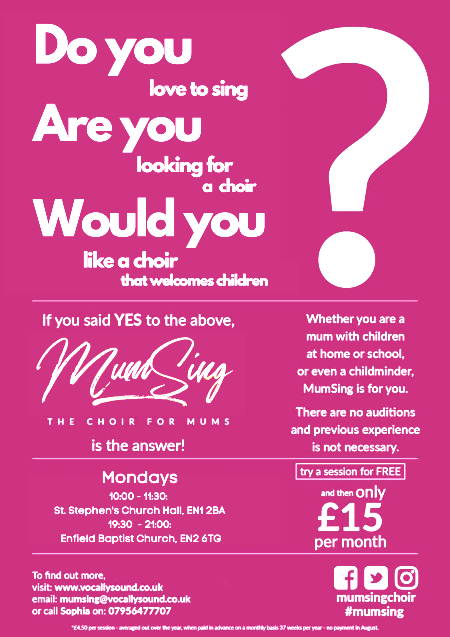 EVERY MONDAY
10AM-11:30AM – St. Stephen's Church Hall, EN1 2BA
19:30-21:00 – Enfield Baptist Church, EN2 6TG
Term Time Only
£15 a session.
To all music loving mums. Join us every Monday to learn, sing and perform great songs. We are a child-friendly choir. This means that you can bring your children along no matter their age. 
We sing a variety of styles covering from the 80's all the way to current hits. 
We perform throughout the year and rehearse during term times.  
To book a free taster please visit www.vocallysound.co.uk.
PGC cannot guarantee that all What's On information is 100% accurate. If in doubt, we recommend you contact the organisers or visit their website using the More Details button.