This event was in the past. For current and future events visit our What's On Page.
N22 Open Studios
Saturday 12 November and Sunday 13 November 8.01pm - 6.00pm
Various locations in Wood Green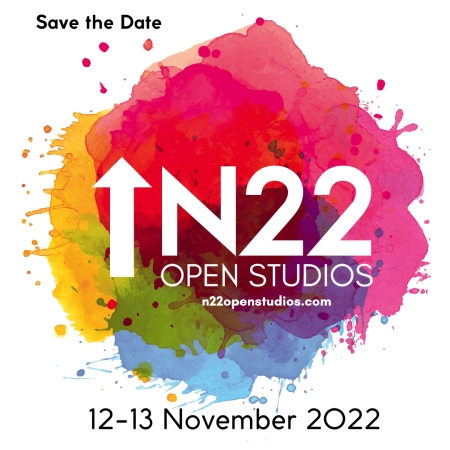 Discover art and creativity in the Artist Studios and Artspaces in N22, managed by Collage Arts. This means you can visit around 50 studios and exhibitions at Karamel in Coburg Road, Wood Green N22.
Tickets are free but donations are welcome.
For over 37 years, Collage Arts has been the creative heart of Wood Green. Every day we raise £1,000 to deliver our community and outreach programmes which target young people and members of the community with limited access to art and cultural events.
Open Studios is set across multiple venues and locations including:
Karamel, Collage Artspace 1&2, 4 Coburg Road N22 6UJ
Collage Artspace 4, Corner of Parkland Road/Caxton Road N22 6DZ
Collage Artspace 5, Unit 3, 44 Coburg Road N22 6TZ
Collage Artspace 3, 3rd/4th floors, 40 Cumberland Road N22 7BU
and other Locations around N22.
More info including Artists directory : www.n22openstudios.com
The Secret Life of Wood Green
N22 Open Studios reveal a hot-bed of creativity …
You may have seen the brown directional signs that locate the Wood Green Cultural Quarter. On the surface these signs seem to promise more than they deliver. However, behind the often-brutal facades of N22, is the secret life of the capital's powerhouse of creativity
From noon until 6 pm on Saturday and Sunday 12-13 November the creative community of Wood Green will open their studios revealing the work by over 100 artists and creative practitioners, ranged across 5 buildings and over 80,000 square feet.
Collage Arts has been in Wood Green for nearly 40 years.
This will be the 24th time we have coordinated the N22 Open Studios space which is home to artists, music producers, creatives and social enterprises.
Manoj Ambasna, Executive Director of Collage Arts, has been at the creative helm of the charity, since its formation. He said: "we know we are the keepers of one of London's best kept secrets. Within the 5 buildings we operate in the heart of Wood Green, is one of London's largest and most diverse creative communities. Nestling between painters, furniture makers and craft people, we and many technical crafts supporting theatre and television production. For the first time ever, we will be offering people the chance to get a peep at some of our 18 professional recording studios."
Across London the spaces used by artisans are under threat. A recent report by the Mayor's Office suggested that up 30% of artists studio spaces could be swept away by redevelopment projects. Collage artists have become part of the social fabric of the area.
Ambasna continues: "The vision is to establish new purpose-built studios that will safeguard employment in the creative sector way into the future."
Haringey Council said: "Collage Arts is an important partner – they are well connected to the creative industries and also have a sizeable space of their own where they offer space at low rents to creative SMEs.'
Collage Arts works as a direct provider of services and opportunities. Collage Voices, offers young people's performing arts club. But this isn't like a usual stage school. The emphasis here is on young people finding their voice – so there is a great deal of original work produced by the company. There is also a deliberate attempt to create a safe inclusive space for young people to meet.
Collage Arts has acted as midwife to a range of socially engaged arts projects. Studio 306 Collective goes from strength to strength. It offers a model of creative engagement to clients of the mental health service. The jargon calls this work social prescribing – art therapy to support mental well-being.
The Essential School of Painting also offers training as an alternative to attending traditional arts schools. The calibre of the teachers and small class sizes prove to be a hit with their learners.
PramDepot has also emerged from the arts community in Wood Green. This was the response of a fine artist to ensure that vulnerable mothers with babies get the support they need. Every week, packs of recycled and reused baby equipment and clothes are sent to women in hardship and need.
There are few places in London where you will find socially engaged artists working alongside designer-makers, fine artists, sculptors, ceramicists, glass blowers, printers, framers, furniture makers and fashion designers. This is a smorgasbord of creativity.
The 24th N22 Open Studios will take place in Wood Green on 12 and 13 November 2022. From Wood Green tube station, follow the art trail on lamp-posts to locate the five participating Artspaces.
WWW.N22OPENSTUDIOS.COM #wecreateWoodGreen
FREE AND FAMILY FRIENDLY
The Open Studios 2022 weekend will be on:
Saturday 12 November and Sunday 13 November, 12 noon-6pm
RSVP N22 Open Studios on Eventbrite
PGC cannot guarantee that all What's On information is 100% accurate. If in doubt, contact the organisers or visit their website using the More Details button.