Saturday 13 November and Sunday 14 November 12.00pm - 6.00pm
N22 Open Studios 2021
Four venues in Wood Green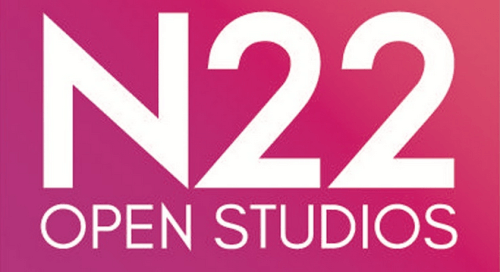 N22 Open Studios is your opportunity to meet artists, see their work and possibly find a unique addition to your home or wardrobe. This is a celebration of the contribution artists make to Haringey. There is no pressure to buy. It's just a great time to find what the Creative Quarter has. There's lots to see, fun activities for the kids and it's all free. 
Due to the pandemic we are limiting ticket entry and introducing a booking system with three x two-hour time slots each day. We will release further allocations of tickets over the coming months to coincide with our promotional campaigns. We have four spaces open this year - Artspaces 3, 4 & 5 and Karamel. This means you can visit around 50 studios and an exhibition at Karamel in Coburg Road, Wood Green.
Tickets are free but donations are welcome. Every day we raise £1,000 to deliver our community and outreach programme which targets young people and members of the community with limited access to art and cultural events.
Open Studios is on the weekend of 13-14 November 2021 and across four venues:
Karamel, Collage Artspace 1&2, 4 Coburg Road N22 6UJ
Collage Artspace 3, 40 Cumberland Road N22 7BU
Collage Artspace 4, Corner of Parkland Road/Caxton Road N22 6DZ
Collage Artspace 5, Unit 3, 44 Coburg Road N22 6TZ


PGC cannot guarantee that all What's On information is 100% accurate. If in doubt, we recommend you contact the organisers or visit their website using the More Details button.