Wednesday 2 February 8.00pm
North London Organic Gardeners: Rebugging the planet
Carey Hall, Winchmore Hill Baptist Church, Compton Road, N21 3PA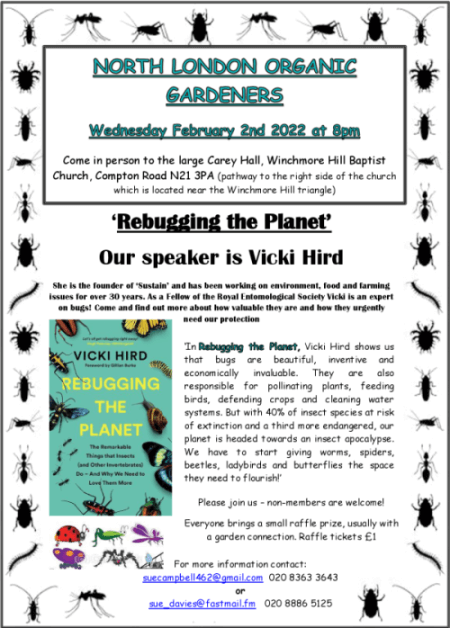 Vicki Hird is the founder of 'Sustain' and has been working on environment, food and farming issues for over 30 years. As a Fellow of the Royal Entomological Society Vicki is an expert on bugs! Come and find out more about how valuable they are and how they urgently need our protection.
In Rebugging the World, Vicki Hird shows us that bugs are beautiful, inventive and economically invaluable. They are also responsible for pollinating plants, feeding birds, defending crops and cleaning water systems. But with 40% of insect species at risk of extinction and a third more endangered, our planet is headed towards an insect apocalypse. We have to start giving worms, spiders, beetles, ladybirds and butterflies the space they need to flourish.
PGC cannot guarantee that all What's On information is 100% accurate. If in doubt, we recommend you contact the organisers or visit their website using the More Details button.