Friday 27 August 8.15pm
Open-air cinema: Farmageddon
Broomfield Bowl, Broomfield Park, N13 4PZ
Gates open 18.30, screening from about 20.15
Talkies Community Cinema and Friends of Broomfield Park bring you another great 'picnic in the park in the dark' with your friends and family.
Tickets £9.00 Adults; £6 Children 2 – 16; under 2s go free.
Close encourters of the furred kind from the wonderful Aardman animation studios, creators of Wallace and Grommit and Shaun The (global superstar) Sheep.


PGC cannot guarantee that all What's On information is 100% accurate. If in doubt, we recommend you contact the organisers or visit their website using the More Details button.
Upcoming Broomfield Summer Festival events

Click on names for details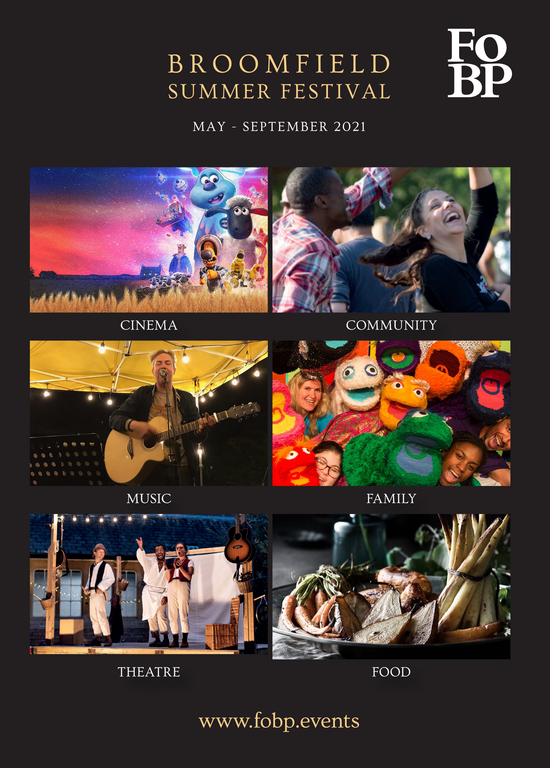 Sunday 25 July CANCELLED Afro Day Mini Festival
Saturday 31 July Open-air theatre: The Further Adventures of Dr Doolittle
Saturday 7 August Open-air theatre in Broomfield Park: More Tales from the Shed
Saturday 14 August Broomfield Summer Festival: The Secret Garden
Wednesday 18 August Broomfield Summer Festival: Hexwood School of Sorcery
Saturday 21 August Broomfield Food Festival
Thursday 26 August Coggers Funfair in Broomfield Park
Friday 27 August Open-air cinema: Farmageddon
Monday 30 August Open-air theatre: The Miraculous Mis-Adventures of Robin Hood
Friday 3 September Talkies Community Cinema: Moulin Rouge
Sunday 5 September Open-air theatre in Broomfield Park: Romeo and Juliet
Tuesday 14 September Open-air theatre: Mr Stink
Sunday 19 September Apple Day in Broomfield Community Orchard
Thursday 23 September Zippo's Circus in Broomfield Park
Sunday 26 September Music in the Conservatory