Sunday 19 September 12.00pm - 4.00pm
Palmers Green Food Festival
Broomfield Bowl, Broomfield Park, N13 4PZ
A lively outdoor event featuring many stalls reflecting the rich diversity of local food producers including bakeries, restuarants, street food, fresh produce, craft beers, cocktails and much more. .
Programme of events
12:15 Performance by Young Notes
12:55 Cooking demo by the Micro Cheesemonger
13:30 Gin cocktail talk by Old Bakery Gin
14:00 Pie competition
14:15 Book signing by Georgina Hayden
14:45 Cooking demo by Elliot Jacobs
15:45 Competition winners announced
Stalls and events
Food stalls
Licensed bar
Outdoor kitchen
Demos
Competitions
Live music
A dog-friendly family event
Key Information
Pies rnust have a London theme and be a maximum of 9"
There will be two age categories: juniors (12 to 17) and seniors (18+)
What next
On the day
Bring your pie to the judging tent by 1pm on the 19th September
You will need to provide the title of your pie, your name, telephone number and your pie recipe
Special guest judges will choose tne winner based on taste as well as design and taking place at 2pm
Prizes for 1st 2nd and 3rd place
Some of the stallholders at the festival
A very local gin with an amazing story, based in a 120-year old bakery where 100 years ago they distilled and sold illegal gin. Now totally legal and taking the world by storm, you will be able to sample their excellent gin and rum at the festival.
Based in Palmers Green, they stock a wide range of high quality, organic and free-from products, as well as organic vegetables, smoothies and great coffee. They've supported Cooking Champions with food donations for their Covid response.
Niki's Homemade Biscuits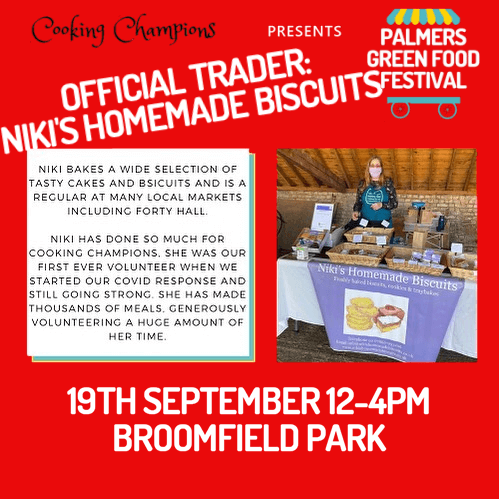 Niki bakes a wide selection of tasty cakes and biscuits and is a regular at many local markets, including Forty Hall Farm.
Niki has done so much for Cooking Champions. She was our first ever volunteer when we started our Covid response and is still going strong. She has made thousands of meals, generously volunteering a huge amount of her time.
Outdoor kitchen: Cook.Eat.Joy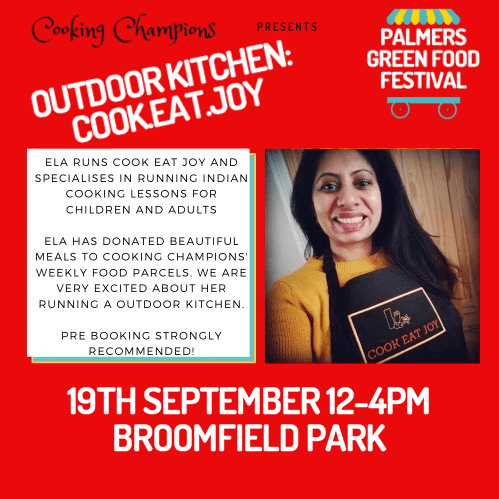 Ella runs Cook Eat Jooy and specialises in running Indian cooking lessons for children and adults
Ella has donated beautiful meals to Cooking Champions' weekly food parcels. We are very excited about her running an outdoor kitchen.
Pre-booking strongly recommended!
Learn how to make paneer rolls and potato chaat
More information about stallholders to follow - watch this space!
12:00 - 12:45 Children's lesson (8 spaces)
13:00 - 13:45 Adult lesson(8 spaces)
14:00 - 14:45 Children's lesson (8 spaces)
15:00 - 15:45 Adult lesson(8 spaces)
www.cookeatjoy.co.uk
@cook.eat.joy
Paul the Vegman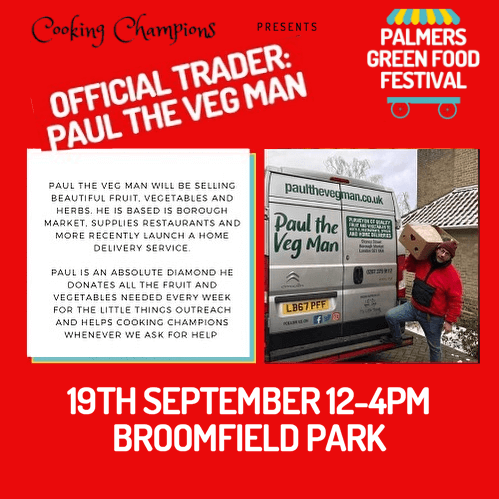 Amani's Kitchen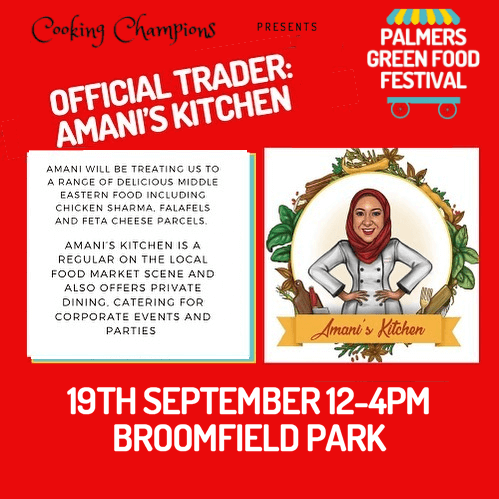 The Little Things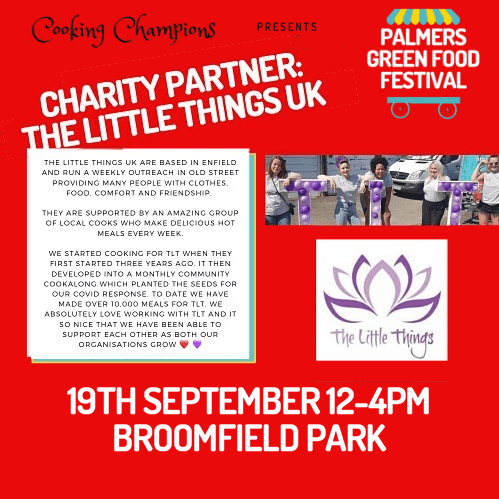 Smokey Okey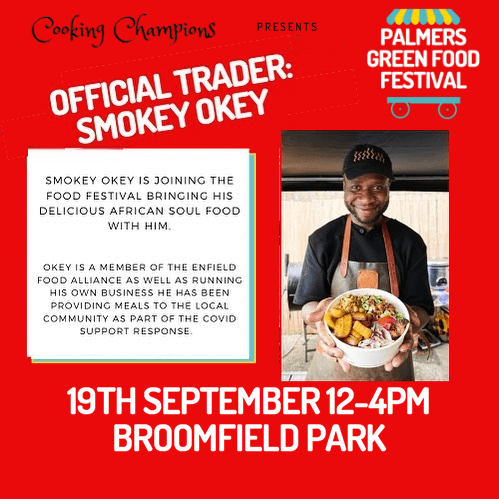 The Little Viet Kitchen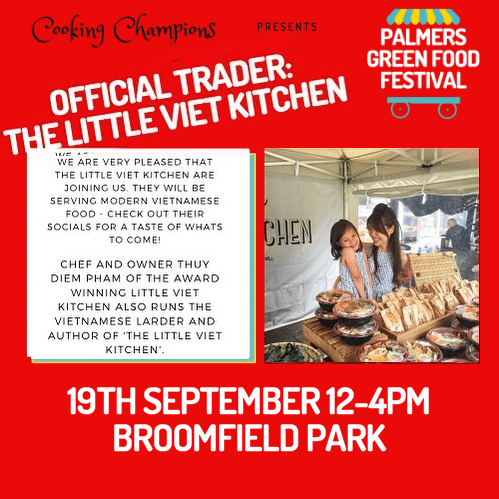 Tiny Treats


PGC cannot guarantee that all What's On information is 100% accurate. If in doubt, we recommend you contact the organisers or visit their website using the More Details button.
Joining together to call on politicians to raise their ambition and champion action on climate change.
The Great Big Green Week will be largest event for climate and nature ever seen in the UK. Thousands of events will celebrate how communities are taking action to tackle climate change and protect green spaces, and encourage others to get involved too.
Nationwide, the Great Big Green Week is being coordinated by the Climate Coalition. Locally, we will be holding Enfield's Great Big Green Climate Festival, coordinated by the Enfield Climate Action Forum (EnCAF). EnCAF harnesses the expertise and energy of more than 80 different groups from around the borough. There will be walks, talks, an apple day, a food festival, a chance to try a bicycle or tricycle, a guided bike ride touring Enfield's wetlands, online events and an all-day fair - bringing concerned people together and celebrating our potential for joint action.
Upcoming Big Green Climate Festival events
The list below shows only a selection of Climate Festival events. Click on the links below to see a complete list for each day. For details of each event see the full Festival Calendar.
---
Saturday 18 September
Little Green Dragon Ale House, 928 Green Lanes, N21 2AD
---
Saturday 18 September
Stitch! - inside Palmers Green Post Office, 364 Green Lanes N13 5XL
---
Saturday 18 September

---
Saturday 18 September

---
Sunday 19 September
Broomfield Bowl, Broomfield Park, N13 4PZ
---
Sunday 19 September
Community Orchard, Broomfield Park, N13 4PZ
---
Sunday 19 September

---
Sunday 19 September
Hazelwood Recreation Ground, Palmers Green N13 5BJ
---
Sunday 19 September
Tottenhall Recreation Ground, Tottenhall Road N13 6LH
---
Monday 20 September
Palmers Green Mosque, 30 Oakthorpe Rd, N13 5JL
---
Tuesday 21 September

---
Thursday 23 September

---
Thursday 23 September
Barnet & Southgate College (Southgate Campus), High Street, N14 6BS
---
Friday 24 September
Bush Hill Park United Reformed Church, Main Avenue, EN1 1DJ
---
Friday 24 September
Barnet & Southgate College (Southgate Campus), High Street, N14 6BS
---
Friday 24 September

---
Saturday 25 September
Christ Church URC, Chase Side, EN2 6NJ
---
Saturday 25 September
Capel Manor Gardens, Bullsmore Lane, EN1 4RQ
---
Saturday 25 September
Christ Church URC, Chase Side, EN2 6NJ
---
Saturday 25 September
Christ Church URC, Chase Side, EN2 6NJ
---
Saturday 25 September

---
Sunday 26 September
Edmonton Methodist Church Hall, 304 Fore Street N9 0PN
---
Sunday 26 September
Pymmes Park Visitors Centre, N18 1HR
---
Sunday 26 September

---
Tuesday 28 September
The Southgate Club, 17 Chase Side, N14 5BP (Entrance is in Crown Lane)
---