This event was in the past. For current and future events visit our What's On Page
.
Saturday 8 May 2.30pm
SDCV talk & AGM: MI9 - The Secret Service for Escape & Evasion in WWII
Online Event
At the Southgate District Civic Voice (SDCV) History Group Meeting Dr Helen Fry will talk about MI9 - The Secret Service for Escape and Evasion in WWII .
When Allied fighters were trapped behind enemy lines during WWII, one branch of military intelligence helped them escape: it was called MI9. The organization set up clandestine escape routes that zig-zagged across Nazi-occupied Europe, enabling soldiers and airmen to make their way back to Britain. Secret agents and resistance fighters risked their lives and those of their families to hide the men. Central to MI9's success were figures such as Airey Neave – the first British prisoner to successfully escape from Colditz.
Helen's talk sheds light on escape and evasion with the previously untold stories behind the establishment of MI9, which was headquartered at Beaconsfield in Buckinghamshire. She reveals for the first time that not only did MI9 save thousands of Allied lives, it contributed to a massive intelligence gathering operation that impacted on the Allies' ability to turn the tide of the war.
Dr Helen Fry is a British historian, lecturer and biographer with especial reference to social history, espionage and intelligence in WWII.
She has written and edited over 25 books, covering the social history of the Second World War; British Intelligence and the secret war; spies and espionage; and MI9 escape and evasion. Helen is the leading expert on the 'secret listeners' at special eavesdropping sites by British intelligence in WWII. You may remember she spoke at an earlier SDCV meeting about the bugging of Hitler's generals at Trent Park, North London.
For SDCV members, the Annual General Meeting will follow this talk.
Tickets for SDCV members are free and include both the talk and AGM.
For non-members tickets are for the talk only and cost £5 (including a non-refundable booking fee). If you decide to join Southgate District Civic Voice, we will be happy to reduce the membership fee to £10 to reimburse the cost of this ticket.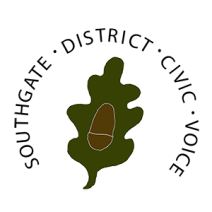 PGC cannot guarantee that all What's On information is 100% accurate. If in doubt, we recommend you contact the organisers or visit their website using the More Details button.