Thursday 9 June until Saturday 11 June 7.30pm
SMP Theatre present Movie Night! - a brand new original musical extravaganza
Millfield Theatre, Silver Street, N18 1PJ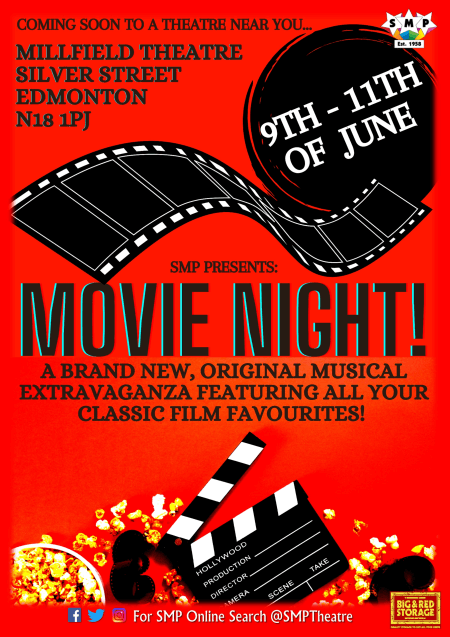 Tickets: £15 | £13 Concessions
After wowing local audiences with spectacular pantomimes and summer productions for over 60 years, SMP are delighted to be returning to the Millfield Theatre this June with their brand new, original concept show, 'Movie Night!'
Following their successful return to live theatre with 'Beauty and the Beast' at the Millfield in January 2022, SMP are excited to present this all-singing, all-dancing musical evening perfect for all the family in their first summer production since 2019.
A trip through every era of Hollywood, featuring hits from favourites of the big screen including 'The Wizard of Oz', 'The Rocky Horror Picture Show', 'My Fair Lady', 'Mamma Mia' and 'The Greatest Showman', the show is sure to be a brilliant night out. Audiences can expect the usual dazzling choreography, impressive live vocals, hilarious skits and the stunning costumes and sets that SMP are known for.
The show has been conceptualised and brought together by Jo Bakhurst as Choreographer and Lucy Sardinha as Musical Director, with production support from Luke Clow. Our fantastic cast is made up of talented locals and includes lots of familiar faces, many of whom are making welcome returns to the stage, and the group is also delighted to welcome lots of new members.
The show runs from Thursday 9 June – Saturday 11 June nightly at 7.30pm. Advance booking is recommended to avoid disappointment!
Tickets are priced £15 Full/£13 Concessions, and can be booked by calling 020 8807 6680 or via the Millfield Theatre website at www.millfieldtheatre.co.uk
SMP are an amateur dramatics group who have been performing pantomimes, musicals and plays in and around the Enfield area for over 60 years. Our recent shows include Beauty and the Beast, Much Ado About Nothing, Snow White and Spamalot.
PGC cannot guarantee that all What's On information is 100% accurate. If in doubt, we recommend you contact the organisers or visit their website using the More Details button.