This event was in the past. For current and future events visit our What's On Page.
Friday 27 May 8.30pm
St Harmonica's Blues Club: Cruisin' Mooses + DB&JC
The Southgate Club, 17 Chase Side, N14 5BP (Entrance is in Crown Lane)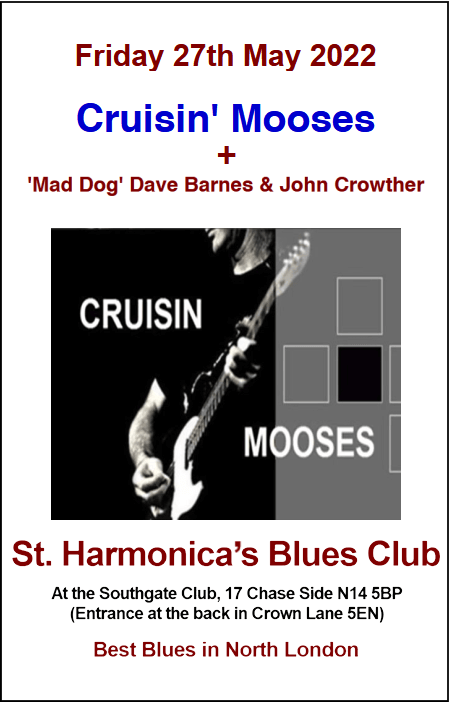 A classic British Blues band whose members have been there, done it all, and are still trying to find T Shirts that fit. The Blues as it used to be and should be played, the Cruisin' Mooses boast a host of musicians who have played with the very best at home and abroad: Nick Payne on harp/sax has played and recorded with Gary Moore, Dave Gilmore and Paul Young amongst others; on drums is the brilliant Pete Stroud; lead and slide guitar is Dave Williams, who has worked relentlessly on the pub scene since the seventies. Guitar and vocals are provided by Martin Mathews, who worked with the Inmates and Bill Hurley way back when; and Jimmy Classic on bass and vocals, who played with Unit Four Plus Two amongst others. As ever the Mooses will be exploring all blues patterns with varying degree of foot tapping and get up and dance feel.
Support comes from St Harmonica's very own John Crowther & 'Mad Dog' Dave Barnes, a discerning duo who really know the blues.
Tickets @£10 each are available in advance via the following link, or on the door on the night (subject to availability).
PGC cannot guarantee that all What's On information is 100% accurate. If in doubt, we recommend you contact the organisers or visit their website using the More Details button.