Friday 21 January 8.30pm
St Harmonica's Blues Club: Tim Penn & The Second Line
The Southgate Club, 17 Chase Side, N14 5BP (Entrance is in Crown Lane)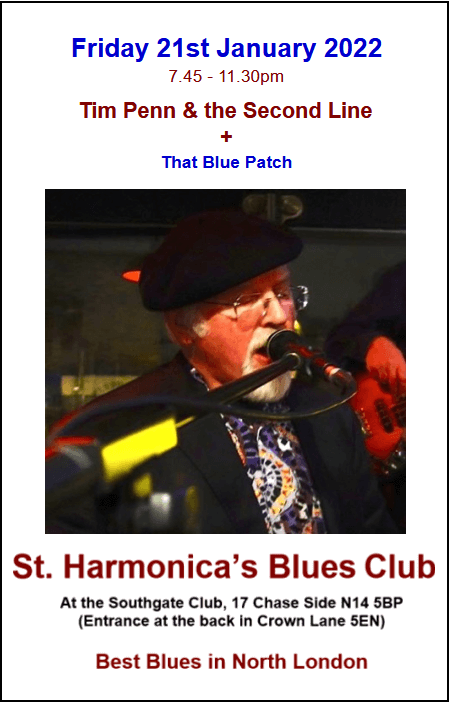 Great to see good numbers last Friday to see Robin Bibi's great performance. This week, we serve up something piano driven and you will see for yourselves why they call this guy 'The Professor'. Tim Penn is one of the outstanding pianists in British Blues, and a regular at Ronnie Scott's. This Friday he returns to St Harmonica's leading his own 5 piece band, the Second Line, one of the top New Orleans R&B outfits playing around London. It's refreshing to see a true piano-led evening and If you like Professor Longhair, Dr John, Allen Toussaint, James Booker, Huey Smith and The Clowns, then this is a band that you won't want to miss. In Tim's own words "This is the blues, but with a great big smile on its face".
Tickets are available here, or on the door ...
Buy tickets for Tim Penn (21st January)
Support is from the ever popular That Blue Patch, Ruth and Dave, with their quirky and eclectic take on the blues.
Friday 28th January: We host the LSD Band for the first time. This blues/rock collective boasts a set list that includes classics from the Allman Brothers, early Fleetwood Mac, Cream, JJ Cale, Ry Cooder, Joe Walsh and many more..
PGC cannot guarantee that all What's On information is 100% accurate. If in doubt, we recommend you contact the organisers or visit their website using the More Details button.