This event was in the past. For current and future events visit our What's On Page.
Windrush Festival
Monday 20 June until Sunday 26 June
Bernie Grant Arts Centre, Town Hall Approach Road, N15 4RX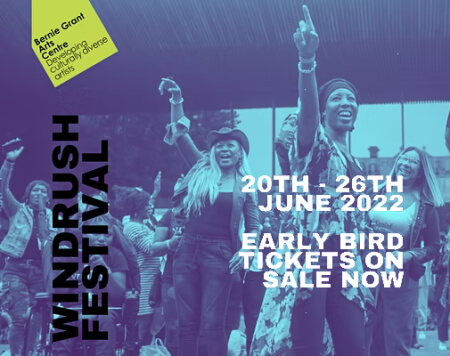 The celebrated return of Tottenham's popular Windrush family festival of music, performance, arts, crafts and exhibitions
Bernie Grant Arts Centre will celebrate Windrush Day in style again this year, with a week-long programme filled with arts and crafts, community, history and culture, culminating with an open-air Windrush Festival weekend in our courtyard at Paul's Square.
From Tuesday 20th June you will be able to explore the Windrush Collection, a fantastic installation that offers an authentic glimpse into a Black British Caribbean home. Throughout the week, there will also be opportunities to interact with the exhibition, which features a 'typical' living room, bedroom and kitchenette.
On Friday 24th June, you'll be able to turn it up with our special Simmer Down Friday, featuring multi-disciplinary artist Apex Zero who will be exploring the themes of his latest project, 'Drummer Warrior Storyteller', a multi-layered visual album incorporating music, film, dance, photography, painting, metal work and more. The night will include live vocal, interactive dance and Djembe drumming performances, within an installed exhibition.
Over the weekend we invite you to our house to party! We have fantastic line-ups for both days, from 1pm until 6pm; on Saturday host Ashley J (Get-up Stan Up, Jojo & Gran Gran) presents headliners Cleveland Watkiss & the Great Jamaican Songbook, as well as performances from Rhythms of the City, Reggae Choir, Hear Me Out and Mobo Unsung artists, A30, Zitah, Natalie Lindi and Genesis Elijah.
On Sunday, Hackney Showroom presents Disco Loco - the wild and wonderful family party, brimming with DJs, live bands and cabaret acts.
There will be arts and crafts for all ages, plus our resident chef, Smokey Okey, will be firing up his BBQ and grilling up African and Caribbean delights all weekend long!
We invite all of our community to come and celebrate this important moment in our shared histories; it is a day of significance for every British citizen, as it acknowledges the major contributions of the African and African-Caribbean diaspora to UK, and therefore to global, politics, infrastructure, culture and economy.
www.berniegrantcentre.co.uk/do/windrush-celebrations-at-bernie-grant-arts-centre
www.eventbrite.co.uk/e/windrush-festival-early-bird-tickets-tickets-342953341677
PGC cannot guarantee that all What's On information is 100% accurate. If in doubt, we recommend you contact the organisers or visit their website using the More Details button.