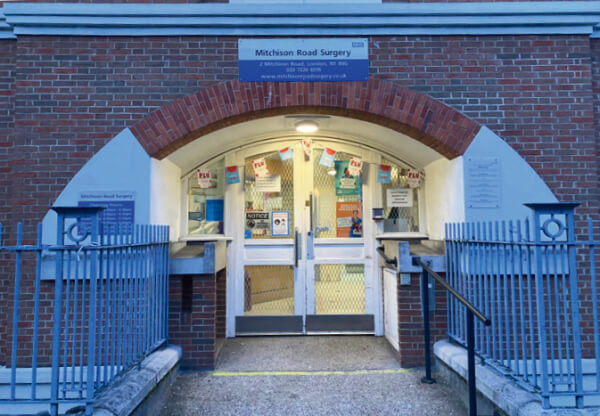 A GP surgery in Finsbury Park that now belongs to giant US corporation Centene (Source: Islington Tribune)

NHS defenders are continuing to express fears about the takeover of GP surgeries in London and other parts of England by the giant US Centene Corporation. This week Enfield Southgate MP Bambos Charalambous added his support to the campaign to block this and similar takeovers of traditional GP practices by large companies focussed on maximising profits.
In an email to a member of the campaigning group Defend Enfield NHS the local MP wrote:
"I support calls for the Government to intervene to block this takeover, which is expected to create the largest private supplier of GP services.
"As you know, Operose Health—a subsidiary of US insurance company Centene - has acquired AT Medics, which operates 37 GP practices across London. This will add to the 21 GP practices it already runs throughout England.
"This takeover happened without any patient consultation or public scrutiny and there are understandable concerns that this represents a stealth privatisation, with potentially huge implications for patient care."
Adding that he would be scrutinising future NHS legislation closely, Bambos Charalambous said he believed the Government should "step in to halt the transfer of GP practices to Centene, ensure it is fully scrutinised, and prevent takeovers like this happening in the future".
There are a number of troubling aspects to the takeover of the 37 London practices, which include several in north London (but none so far in Enfield). One is that there were irregulaties in the manner in which the takeover occurred surreptitiously - prompting lead cabinet members for health across all five north central London boroughs (including Enfield) to put their concerns in writing to the accountable officer heading the North Central London Clinical Commissioning Group, concerns echoed in a letter to the same addressee from Sir Keir Starmer, acting in his role as MP for Holborn & St Pancras.
Another, the most important, is that the takeover is a conspicuous example of a trend away from the normal practice of surgeries being small businesses owned by a single GP or a GP partnership, towards them being owned by large business groups.
In reaction to press stories about the Centene takeover some commentators have pointed out that GP practices are already "privatised" - at the time the NHS was created in 1948 GPs did not become NHS employees but continued to operate privately, as is still the case. However, there is a very big difference between, on the one hand, a small business run by doctors with the aim of providing a service and earning themselves a living at the same time and, on the other hand, a large chain of surgeries run by a corporation whose prime responsibilities are directed towards shareholders. It is well known that in the United States, where Centene is a big player, profit takes precedence over patients.
For a clear exposition of the many concerning aspects of this takeover, watch the video above and read the article referenced below - Aren't All GPs Private Anyway? The video was made by Tower Hamlets Keep Our NHS Public and starts with information about clinics in east London, but the bulk of the video concerns the threat to services across the whole of London and England.
Links