NHS privatisation kills
Once again, members of local group Defend Enfield NHS (DENHS) have been campaigning on behalf of our treasured National Health Service. On Saturday 25th February, we joined a demonstration in Parliament Square to protest against privatisation of the service, particularly the out-sourcing of patients' treatment to private providers.
Led by public service campaign group We Own It (WOI), the demo focussed on recent research undertaken at Oxford University from 2013 to 2020 and published in the Lancet. Their results highlighted the lethal effects of privatisation when, during that period, it was linked to a tragic 557 avoidable deaths, the first time that such firm evidence had been established.
The authors speculated that the higher mortality might be due to private companies "delivering worse-quality care, resulting in more health complications and deaths".
"While some have argued the Health and Social Care Act of 2012 would improve the performance of health services by increasing competition, our findings add merit to longstanding concerns it could instead lead to cost-cutting and poorer health outcomes," said the study's lead researcher, Benjamin Goodair of the University of Oxford.
Most private hospitals do not have A&E departments and many do not have intensive care units either.
There will be those who are content to pay large sums of money to private hospitals for convenience' sake, but there are risks attached. Many may be unable to cope if and when things go wrong.
At the demo we filled a section of Parliament Square and listened to impassioned speeches by medical and nursing professionals; a description by Ben Goodair as to how the research was conducted; an introduction to the event by Cat Hobbs, director and founder of WOI and closing remarks by Dr Tony O'Sullivan, co-chair of Keep Our NHS Public.
These were followed by a short march to the Department of Health and Social Care. Of the many people present, 557 had each been given a numbered card representing those patients who had died an untimely and otherwise preventable death. We wrote a personal message on the cards, addressed to Steve Barclay, Secretary of State for Health, and these were collected and handed in to the department for his serious attention.
The demonstration was a truly poignant experience, not to be missed, and on Saturday 11th March, DENHS will continue the fight, supporting the national demonstration SOSNHS with another march to Westminster.
Come and join us if you can!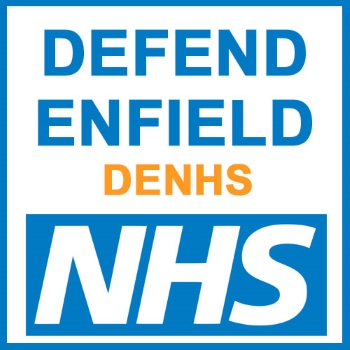 There is no better way to sum up the rationale for the existence of DENHS, Health Campaigns Together, Keep Our NHS Public, Doctors for the NHS, Junior Doctors Alliance, NHS Patient Voice, We Own It, and many others, than in the words of Nye Bevan, founder of the NHS in July 1948:
"THE NHS WILL LAST AS LONG AS THERE ARE FOLK LEFT WITH THE FAITH TO FIGHT FOR IT".
We are those folk - come and join us!