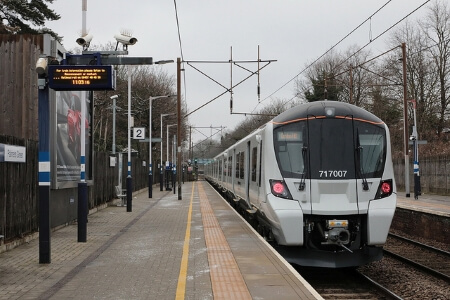 Great Northern rail services through Palmers Green are being cut to two an hour at all times because so many staff are off sick with Covid-19.
Govia Thameslink Railway announced last Thursday that it would be reducing weekday services with effect from today (4th January) on its services branded Great Northern, Thameslink and Southern. The cuts on Southern are particularly severe, including complete suspension of operation into Victoria.
On Great Northern the reductions affect the service from Moorgate to Stevenage (via Palmers Green and Hertford North) and Moorgate to Welwyn. The combined effect of this service reduction and the cuts that occurred in February 2021 has been to reduce peak hours services through Palmers Green from eight trains an hour prior to February to two trains an hour until further notice. Offpeak services were cut from four an hour to two an hour in February.
Govia say that the reduced service will "help ensure a more reliable service and fewer last-minute cancellations". There are no planned changes for weekends, "but it may be necessary to make smaller, additional on-the-day changes".
This week's timetable is available online but is only valid until Friday. An announcement about timetables from next Monday is expected later this week.
Links