Croquet is a sociable outdoor sport for people of all ages which is easy to learn and played by both sexes. It is a skilful and tactical game which provides leisurely exercise and has a handicap system which enables players of different abilities to compete on level terms.
This free course is designed specifically for those new to croquet who wish to try out the game and receive some guidance on the technique, rules and playing practices. All the required equipment will be provided and each session will include the pleasure of being involved in an actual game against other individuals on the course.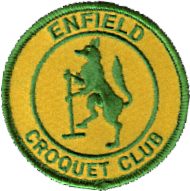 There are no special clothing requirements. Just wear sensible clothing suitable for the prevailing weather conditions on the day and a pair of flat comfortable shoes, such as trainers.
We also welcome any current croquet players or anyone who has previously played either code (Association Croquet or Golf Croquet). The course is designed to teach the basics of Golf Croquet because it is easier game for newcomers to learn, but we are also happy to provide refresher courses for those who wish to partake in Association games (subject to available lawn space).
There will be six days on which you will be able to attend our course in April
Wednesdays the 8th, 15th and 22nd
Saturdays the 11th, 18th and 25th
10.00am – Noon each day.
We would advise that all participants attend at least two sessions if starting croquet from scratch.
Croquet is ideal for those sports men and women who are not quite as lithe or flexible as they once were in their established sports. Our current crop of players for example include a number of ex tennis, golf, cricket, hockey, badminton, netball, football and cyclists. Some of whom will be coaching you should you attend.
Enfield Croquet Club is situated in Bush Hill Park adjacent to the tennis courts. The nearest park entrance is at the southern end of Cecil Avenue, Enfield, EN1 1PS
To reserve a place on the Introductory Course please contact:
For further information please visit our website: www.enfieldcroquet.org
Anyone attending the course may be invited to join our Club once the course has been completed.