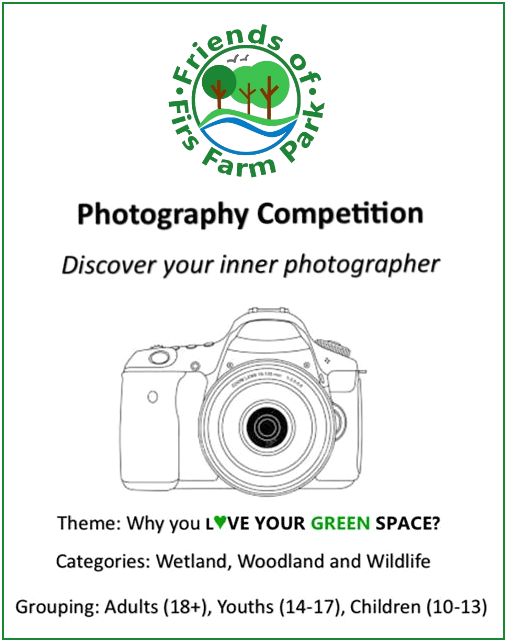 Inspired by the wonderful wetlands in Firs Farm, this is our second Firs Farm photography competition. If you've never entered a photographic competition before this is an ideal opportunity to start.
The competition will take place as part of the Firs Farm Wetlands 'Get out & Get active' project on 12th May 2019. So come on, get out and capture your Wetlands inspiration!
Categories?
Adults (18+) Youths (14 -17) Children (10-13)
Entry Date?
Entries must be submitted by Monday 13th Mav 2019 to:
Theme? Format?
'Firs Farm Wetlands, woodland and wildlife'. Must be in jpeg format (3mb max unopened & 300dpi)
What details must I include in my Entry?
Name, contact number and age if under 18.
(Entrants under the age of 18 years must ensure they have parent or guardian permission to enter.)
Entries will be published on the Firs Farm social media, google maps, our website and may be used in future Friends on/oMine publications
Rules & How to enter
Competition opens midday on Monday February 2019 and doses midnight on Monday 13th May 2019. Entrants must agree to abide by these competition 'tiles.
Save image as the photographer's name and image title E.g. lo bloggs (15)FF wildlife 2019. Jpg"
Don't forget to include your name and contact number (and your age if you are under 18).
Prizes
Subject to sponsorship prizes may be allocated
Moment of Fame on the Friends Website and social media sites plus featured into the newsletter and posted on FOFF notice boards.
Photo submissions:
Only ONE photograph can be entered and any digital alterations must be the entrant's own work.
Entries must be emailed to FirsFarmPholos@gmail com and must include the entrant's name. date of birth (under 18's). and telephone number in your email.
Digital criteria
Photos should be jpeg files and the file name should be the photographer;s name and image title e.g. "jo bloggs wildlife in June. Jpg• Each email must be no larger than 3mb
The competition is open to UK residents only (including residents of the Channel Islands and Isle of Man). Entrants under the age of 18 years must ensure they have parent or guardian permission to enter.
Consent & copyright
The entrant must be the sole author and owner of the copyright.
By entering your photograph into the competition. you grant to the' -Friends of Firs Farm- organizers exclusive right to use your images for promotion of the the park and the Friends in any media, including the display of entries on websites and social media. The photographer will be credited whenever possible.
Entrants must not infringe the privacy rights. copyright or other lights of any person.
The competition organisers reserve the right not to accept or display entries that they consider to be inappropriate, offensive or which are in any way non-compliant with these rules.
Judging
Photographs will be judged by a panel of nominated judges. The winners and a short list of other entrants will be notified on the Friends of Firs Farm website and some photos may be displayed at the Friends' future events. Judges may exclude entrants and withhold prizes if there has been non-compliance with any of these rules. Judges' decision is final. no correspondence will be entered into and prizes (where presented) cannot be ex-hanged.
The Friends & Organisers are not responsible for failure of receipt, loss of or damage to any photographs entered into the competition.
Get out your cameras/ iphones/tablets and be ready to take THE PICTURE that captures "Firs Farm wetlands, woodland and/or wildlife"