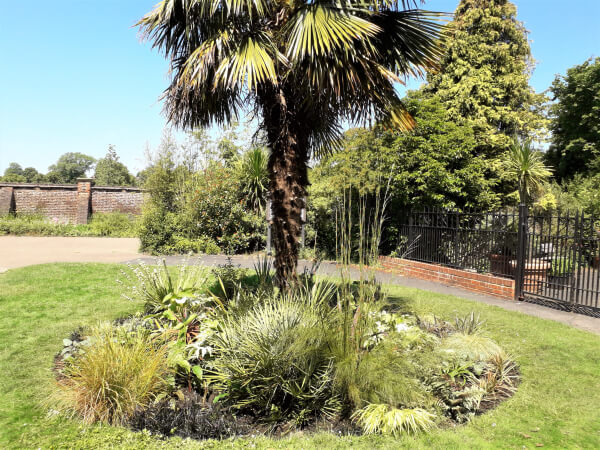 Since Lockdown began all those weeks ago, only members of the Friends of Broomfield Park's Conservatory Group have been able to enter the exotic world of Broomfield Conservatory - one person at a time visits to water the plants and do a bit of gardening. Hopefully, it won't be too long before the general public can again visit our mini-Kew Gardens - taking the necessary precautions, of course. But in the meantime, a flavour of the Conservatory's interior has been created outside for all to see.
The circular bed just outside the Conservatory has had a palm tree at its centre for many years, and earlier this year - before Lockdown, in fact - long-time Conservatory Group member Mick Calman came up with the idea of making the rest of the planting in this bed more like that inside the Conservatory. The group members liked the idea, and for the past few weeks Mick has been growing on some suitably exotic plants.
The replanting has now been done, so if you haven't seen it yet, do pop along. If you go on a Wednesday, Saturday or Sunday, you can also grab a drink and a bite from the Greenery Cafe, which has now reopened. The current opening hours are 11am to 3pm.