The weekend after next will see the lights go back on and the sound of footsteps and voices return to one of several larger shops in Palmers Green that are currently unoccupied. 240-244 Green Lanes is the venue for PG Vintage Flea, which will see the 1920s-vintage building filled with a multitude of stalls selling all things... vintage.
The Flea is the brainchild of Cara McDonagh, who's organising it with help from the Palmers Green Action Team. Cara has got together with local historian Sue Beard to trace the story of its venue.
PG Vintage Flea is taking place in what used to be Iceland supermarket on Green Lanes. But who were the previous occupants of this substantial building? With the help of local historian Sue Beard, we've unearthed its history right back to when it was first built in the 1920s.
Situated right on the Triangle in Palmers Green, many of you will remember 240-244 Green Lanes as Woolworths, well known for selling everything from records to pick'n'mix. In its heyday Woolworths had over 800 stores across the UK, but, like so many of our big high streets names, the 21st century was to see its sad demise. The Palmers Green store closed its doors for the final time in December 2008.
The Palmers Green branch of Woolworths was the first occupant of 240-244 Green Lanes, which was built in 1922. This picture taken in 1917 shows the building that stood there prior to 1922, Hill House.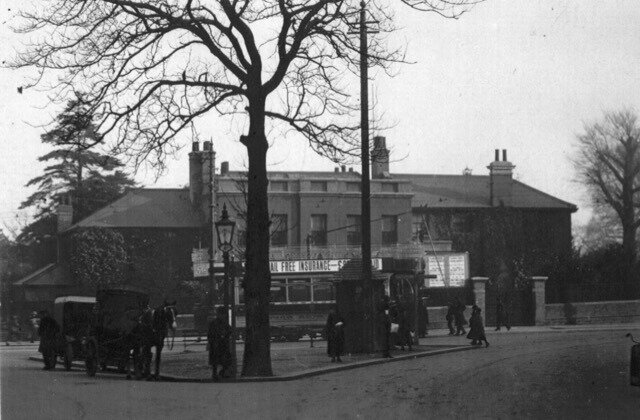 Image copyright: Enfield Local Studies
Woolworths, originally a division of the American-based F. W. Woolworth Company, opened its first UK store in Liverpool in 1909. After the first world war the company continued to expand and by 1923 there were 130 shops, including the one in Palmers Green.
Here it is in 1960.
Image copyright: Enfield Local Studies
After Woolworths closed, Iceland moved in, but they too moved out earlier this year.
We may not be able to bring back Woolworths, but perhaps we can bring back some of its retro charm for two days during PG Vintage Flea!
Images copyright Enfield Local Studies.
Sue Beard is author of the local history blog Palmers Green Jewel in the North.