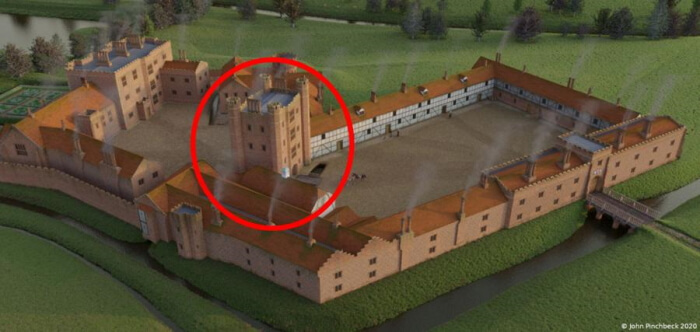 An artist's reconstruction of Elsyng Palace. This year Enfield Archaeological Society will be focussing efforts on finding remains of the inner gateway (ringed in red)
Archaeological work at the site of a Tudor royal palace in Enfield restarts next month. There will be opportunities to join in the "dig" and also to act as oral historians by interviewing people involved in the project or by helping film the interviews. Also during July there will be family days at the site of the palace and a definitive archaeological and historical study will be published.
What and where was Elsyng Palace?
Elsyng Palace was situated within what are now the grounds of Forty Hall. It became a royal palace in 1539 and was one of the homes of Elizabeth I, but it remains almost unknown to people in Enfield, despite the excavations and research that have been carried out by Enfield Archaeological Society (EAS) since the 1960s. Hopefully, EAS's participation in the Stories of Enfield programme, the family days, a new film and the new book will help spread awareness of this historic site in the north of our borough.
Drop in to the EAS family days and discover your local Tudor palace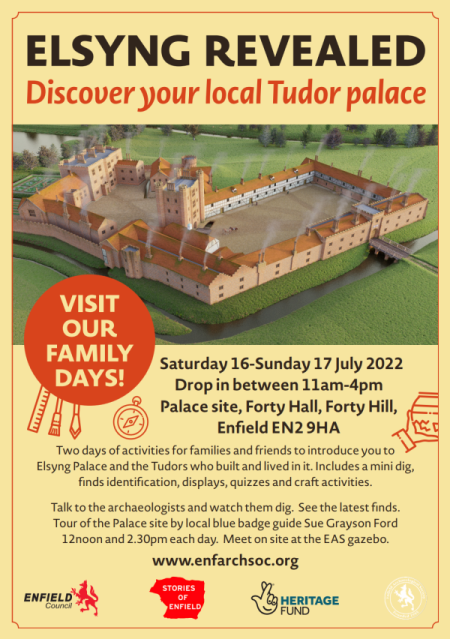 On 16th and 17th July EAS will be running a drop-in family event - two days of activities for families and friends to introduce you to Elsyng Palace and the Tudors who built and lived in it. It will include a mini dig, finds identification, displays, quizzes and craft activities and you'll be able to talk to the archaeologists and watch them dig. At 12.30pm and 2.30pm blue badge guide Sue Grayson-Ford will be leading a tour of the site.
Join in the dig
This year's digging season runs from 10th to 24th July (no dig on the 18th). It will be a once-in-a-lifetime chance to discover Enfield's heritage, working alongside professional archaeologists and fellow community members, so if you're interested in joining in the dig, even for just a day, or a half-day, please contact as soon as possible.
Anyone over the age of 16 can join in, providing that they first become members of the Society - this is so that they will be covered by the insurance policy. The annual fee is £11, but it may be possible to reduce this price. No previous experience is required. You can find out more about joining in the dig on the EAS website.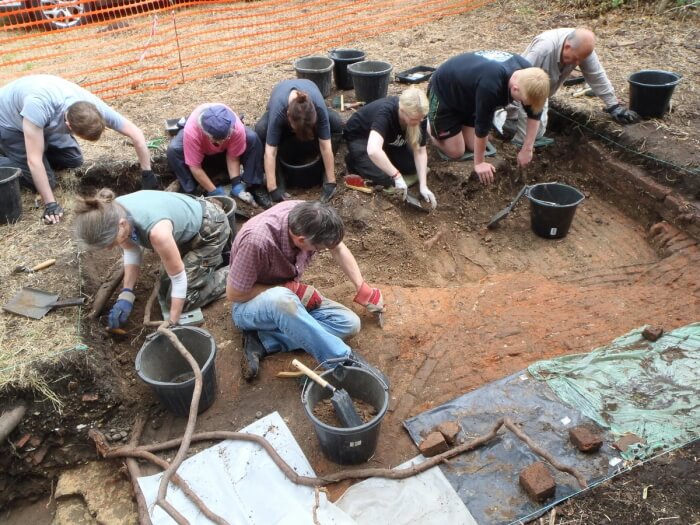 A "dig" in progress
Become an oral historian, helping interview people and making a film
EAS put in a successful bid to run one of Enfield Council's Stories of Enfield projects, which are being financially supported by the National Lottery Heritage Fund and the Enfield Society. The core of the Elsyng Revealed project will be the professionally led excavation in July 2022, whose participants will include experienced archaeologists, university and college students and volunteers from the borough - see above. There will also be training sessions for participants.
A film will be made from which a virtual tour of the palace will be developed. It will include interviews with EAS members, including some veterans from 1960s digs. EAS expect to be interviewing ten or more people, so help in doing the interviewing will be appreciated. Two members of EAS have been trained in oral history techniques at the University of Hertfordshire and are happy to pass on what they learnt to new volunteers. If you're interested and have good listening skills, are interested in people's stories and in archaeology, please get in touch with EAS as soon as possible via .
EAS will also need people to transcribe the content of the interviews and to film the interviews and the excavation work - again, please contact as soon as possible.
Coming soon: The definitive book about Elsyng Palace
Another red-letter day for the Society in July will be the publication of the definitive historical study and archaeological report on the Palace. Monarchs, Courtiers and Technocrats has been written by Martin J. Dearne with John and Neil Pinchbeck. This too forms part of the Stories of Enfield project and has received funding from the National Lottery Heritage Fund and Enfield Society. More details here once it's been published.
Links