Christmas in Enfield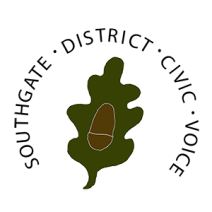 There will be Christmas festivals at various town centres in Enfield this year.
Enfield Council is arranging these with input from local community groups. All will be 12-6pm.
The dates are:
Saturday 4th December: Enfield Town
Sunday 5th December: Enfield Parade of Lights
Saturday 11th December: Palmers Green
Friday 17th December: Angel Edmonton
Saturday 18th December: Southgate
Southgate Christmas Fair – Friday 17th & Saturday 18th December
SDCV is working as part of Southgate Community Taskforce on this fair. We really want to include the whole community and local businesses in making this a festive day for the whole family.
There will be carol singing and music on Friday. Then on Saturday, there will be Santa, stalls, mulled wine, street performers, more music etc.
Not everything is organised yet, so if you have an idea, your group is doing something or you would like a stall space – please SDCV know. There are not many days left until Christmas, so really want to make this a family & community event to kick off our celebrations. But we need your support!