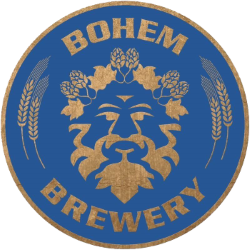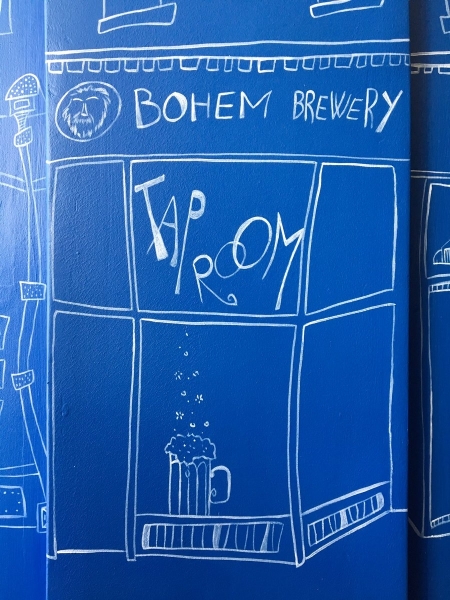 Part of Andrea Aste's Myddleton Road mural inside the TaproomLast Friday saw a further notable development in the continuing revival of Bowes Park's Myddleton Road - the opening of the nearby Bohem Brewery's own Taproom, serving beer from the UK's only Czech brewery.
While both taproom and brewery are in the N22 postal district, the stretch of Whittington Road that the brewery is located in is actually on the Enfield side of the boundary with Haringey borough, so arguably part of Palmers Green.  But be that as it may, both premises are pretty much on our doorstep, so anyone who wants to find out what Czech beer should really taste like (as opposed to what many pubs in Prague nowadays sell) won't have far to go.
Like English real ale, Bohem's beers are unpasteurised - as were practically all Czech beers until, after the fall of Communism, the breweries decided that they needed to "catch up" with the West and our supposedly superior and more modern (actually, just cheaper) production methods.  Pasteurisation might prolong shelf life and make things easier for untrained cellarmen and women, but it also spoils the flavour.  On top of that, the beer hasn't been filtered, so it's not exactly crystal clear - on the other hand, it still contains the health-giving B-complex vitamins that are found in brewer's yeast.
Artists in visual and liquid mediums: L-R Zdeněk Kudr, Andrea Aste, Petr Skoček
Taprooms aren't meant to be luxurious, and neither is Bohem's, but it is the right size to be cosy and welcoming. It features a striking mural by Andrea Aste, showing the shopfronts and houses of Myddleton Road.
To start with the Taproom will be open at weekends only, until the brewery has increased its brewing capacity, after which it should be open daily.  Over the Easter weekend it will be open on Thursday from 5pm to 11pm, on Friday, Saturday, Sunday and Monday from 11am to 11pm.
Bohem Brewery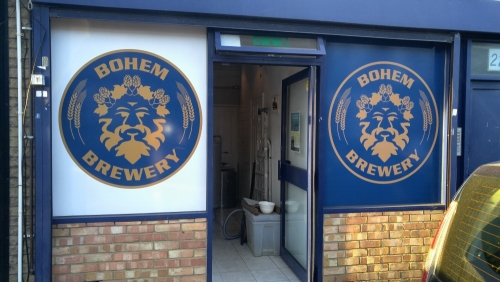 The Bohem story goes back five years, to when Petr Skoček began experimenting at home with brewing Czech-style beer.  The current brewery premises in Whittington Road, previously an estate agent's shop, was completely refitted for its new role by Petr and brewery manager Zdeněk Kudr (they also did most of the work to create the Taproom) and has been in production for a couple of years.
The international style of beer usually referred to as "lager" in the UK is known as Pilsner, after the city of Plzeň in Western Bohemia.  However, as you will discover, it is possible to brew a lager or Pilsner which is flavoursome, hoppy and bitter - it's just that most breweries don't bother.
Until last week the beers were only available at the Prince in Trinity Road, Wood Green, and at the monthly Myddleton Road Markets, or for home consumption.
The Bohem website has some detailed information about the three main types of beer that it produces - the light-coloured Victoria, semi-dark Sparta, and Druid, an oatmeal stout for winter consumption.  As well as Czech and German malt and (it goes without saying) the celebrated Saaz hops from Žatec in the Czech Republic, the beers also include one of the most famous types of English hop - East Kent Goldings.  As well as adding hops during the "boil" phase of brewing, Petr adds more hops after fermentation, a technique known as "dry hopping", which greatly improves both aroma and flavour. After fermentation the beer is lagered (matured) for several weeks in a refrigerated room.