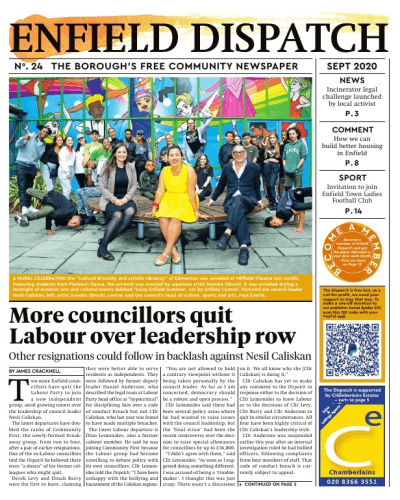 The September issue of Enfield Dispatch has been published. You can read it online or pick it up at one of the many distribution points in the borough.
Or why not become a member for a small monthly fee and have it delivered to your house? You'll be helping support professional independent journalism.
In this month's edition the top story is that more Enfield councillors have quit the Labour Party in a row over the local group's leadership;
On Page 2 several charity shops have closed in a worrying indicator for the high street;
On Page 3 a local climate activist has launched a legal case against the government over emissions from incineration;
On Page 4 find out how small businesses in the borough are coping post-lockdown;
On Page 6 Bowes Park residents give their reaction to the implementation of a low-traffic neighbourhood;
On Page 8 a new report looks at how Enfield Council could build better homes in the borough;
On Page 12 a pensioner is raising money for Chickenshed Theatre;
And on Page 14 Enfield Town Ladies FC invites budding footballers to get involved with the club.