Enfield Chamber Orchestra's concert on 9th March will be celebrating spring, featuring a young award-winning horn player and premiering a composition by local composer Frank Bayford.
The orchestra is promising concert-goers a joyful evening of classical music.  They will be playing one of Beethoven's most well-known works – the Pastoral Symphony No. 6. This symphony celebrates Beethoven's love of nature and the orchestra represents many of the sounds heard in the countryside – a perfect piece to listen to as we celebrate spring and look forward to the summer.
For their performance of Mozart's Horn Concerto No 2 in E flat, the orchestra will be joined by Alice Warburton, winner of the Enfield Music Service Young Musician's Concerto Audition.
Alice Warburton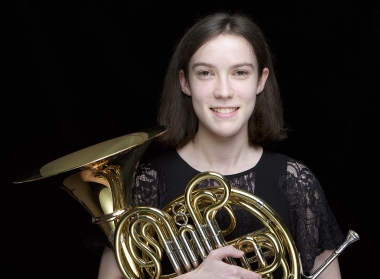 Alice Warburton began her musical studies as a cellist learning with Alison Yates at Mary McNeill's Latymer Saturday Music Centre. She played in the National Children's Orchestra for three years, including as principal cello in the Under-12 Orchestra.
When she was in year 8 at Dame Alice Owen's School, Head of Brass Bernard Bean offered her free French horn lessons. She fell in love with the horn and since then has not looked back.
Subsequently studying with Katie Lang and then Sue Dent, she successfully auditioned for the National Youth Orchestra in 2018. Her first performances with the NYO were under Kirill Karabits in January 2019, including a concert at the Barbican Hall.
She is also a member of Hertfordshire County Youth Orchestra and Enfield Youth Symphony Orchestra.
Alice is now in Year 12 at the Latymer School and plans to audition for conservatoire. She plays on an Alexander 103 horn.
The concert will include the first performance of a new piece by the orchestra's patron Frank Bayford - Berceuses Tristes.  Frank Bayford was educated at Enfield Grammar School.  He was Head of Pharmacy at Chase Farm Hospital for many years, but has also been busy writing music - the new work is his Opus 111.