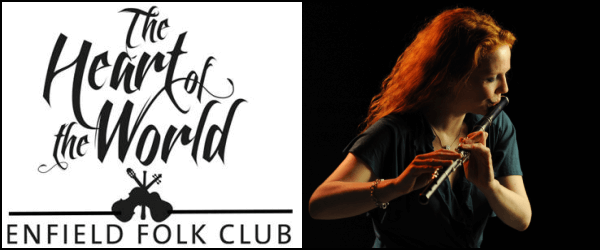 Enfield's new folk club will be programmed by Jacquelyn Hynes
Enfield's new folk club, the Heart of the World, launches on 22nd February at the Dugdale Centre. It will be programmed by distinguished local musician Jacquelyn Hynes and the inaugural session features Brona McVittie and Friends.
Jacquelyn Hynes performs world-wide as a solo artist, in her trio or as a performer with other bands and projects, playing at many major venues. Her Folk/World project Avalonia has featured many leading world and jazz musicians including Najma Akhtar, Stuart Hall, Hossam Ramzi, Zinga Rabhi and Merit-Ariane Stephanos. Her joint collaboration "Celtic Caribbean Crossing" has played to sell out audiences at the irish Cultural Centre this year. She tutors and lectures on flute and folk music at several colleges and universities. For more details see her website www.jacquelynhynes.com.
Saturday 22nd February, 7.45pm
Featuring Brona McVittie & Friends
The first guest performer at the Heart of the World is Brona McVittie, whose new single 'Green Man' is taking the Folk world by storm.
Decorated with an array of four star reviews singer-songwriter and musician Brona McVittie is deftly steering traditional folk into the 21st century with her recently launched debut solo album - a deep reflection on the interconnectedness of things natural and manmade, an album of duality and dichotomy shaped as much by natural sonic patterning as by human patterns of behaviour — inspired by rural and urban scapes alike.
Brona returned to her native County Down after several years in London, during which time she performed with numerous bands at venues ranging from the 12 Bar Club to the Roundhouse. She was musical director for Celtic acapella outfit Rún, lead singer and harper for the London Lasses and briefly even ran her own folk club. In a variety of guises, she has graced the stages of numerous festivals including Glastonbury, Celtic Connections and Cambridge Folk Festival. In 2019 she performed with her trio at Dublin's National Concert Hall, Glasgow Royal Concert Hall, London's Kings Place and Womad festival. She champions folk songs and tales from her homeland both in her own work and as leader of the Mourne Community Choir.