I got totally hooked and spent till 7pm making things, trying to understand how what I was doing was making the shape like it was.

I had such a great time. The way you structured the class and content was super, made it really easy to absorb what we learned.
An extract from a testimonial written by a participant in a pottery course run by the charity Maxability. The next online course starts next week, on 22nd February.
Four-week pottery course - taught over Zoom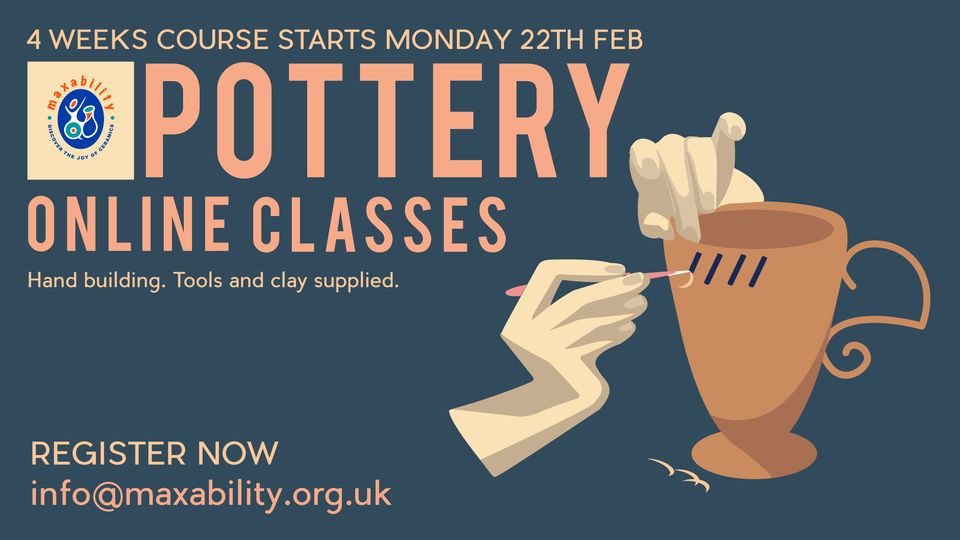 Mondays from 6 to 7.30pm, starting 22nd February.
The course will teach you to create pottery by hand. Clay and tools are provided.
Price: £80 for the four weeks.
For more information and to register, email
Maxability - developing latent talents and artistic abilities
Maxability runs ceramics, pottery, art and photography classes at the Flightways centre in Grahame Park, Colindale, primarily for physically or learning disabled adults, helping them to discover and develop their latent talents and artistic abilities. It was founded by Emile and Anita Woolf, whose son Carl was born profoundly deaf and physically disabled.
After broadening its scope to take in classes for young people, the elderly, those with mental health concerns and anyone who would benefit from a supportive community and a creative outlet, Maxability recently opened up its courses to the general public in order to bring in income to help keep down prices for people who can't afford the full fees.
Maxability is also celebrated locally for the frequent fundraising concerts and recitals held at the Woolfs' house in Southgate, where there is a room large enough to accommodate a Steinway concert grand piano.
Currently, both classes and concerts have moved online. There are three concerts available: Martino Tirimo playing Beethoven piano sonatas;  the same composer's 9th Symphony arranged for piano duet, played by Ben Shoeman and Tessa Uys; and a concert by BBC Folk Award winning musicians Sam Kelly and Jamie Francis.
Links
Ceramics by adults with physical disabilities
Ceramics by adults with learning disabilities
Ceramics by the general public