The art gallery at the Southgate Club has now been open for just under a year. Funded by Ralph Hutchings, and with a hanging committee consisting of Ralph, Anne Hutchings and Chrissie Thomas, it provides a superb space to promote the work of local people.
The two artists whose work is currently on display both use their art to depict the urban experience, but their pictures could hardly differ more in style.
Raymond Isaac's colourful collages, which will continue to adorn the chimney breast in the cosy front room of the club in Chase Side until the start of August, have now been joined by a contrasting exhibition of sketches by Alan Baker, an Edmonton resident who grew up in the West Midlands.
More examples of Raymond Isaac's work on display at the Southgate Club
The inspiration for Raymond's work comes from his travels in the contemporary built-up urban environment. He says, "My collages overlap images from mass media that are juxtaposed to form a new visual language."
Alan Baker (left) and gallery patron Ralph Hutchings sit beneath a display of Alan's drawings
By contrast, Alan Baker's drawings use traditional artistic techniques to take us back to a world which has now disappeared. The subject matter is very specific - his "Bradbury Lane Memories" depict life in a town in the Cannock Chase area of Staffordshire during the post-war period. Will this be a problem for gallery visitors from the north London suburbs? Not at all, says Chrissie Thomas: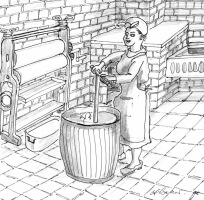 "Most of Alan's drawings will strike a chord with anyone who remembers the 40s, 50s and 60s, wherever they grew up, as the images and themes are universal. For example, the Rag and Bone Man, the Knife Grinder, the Coalman, the Pub Singer, 'sleeping head to tail' in a bed etc were commonplace in London too. The drawings have an appealing charm and express with authentic detail and heartfelt emotion his love and pride in his 'roots' as a 'Hednesford Man', to quote his poem."
Coming soon at the Southgate Club: Longer opening hours and a tearoom
The Southgate Club plans to be opening soon during the day as tearooms and café, but in the meantime watch out for private views arranged by the artists and come and view any time during club opening times of:
Mondays - Thursdays 5.00pm - 11.00pm
Fridays: 3.00pm - 11.30pm
Saturday 12.00noon - 11.30pm
Sundays: 12.00noon - 8.00pm
Ring the bell at the front door and you'll receive a warm welcome. As well as enjoying the art, it's a brilliant place to relax and enjoy a drink and find out more about what goes on at the Southgate Club.