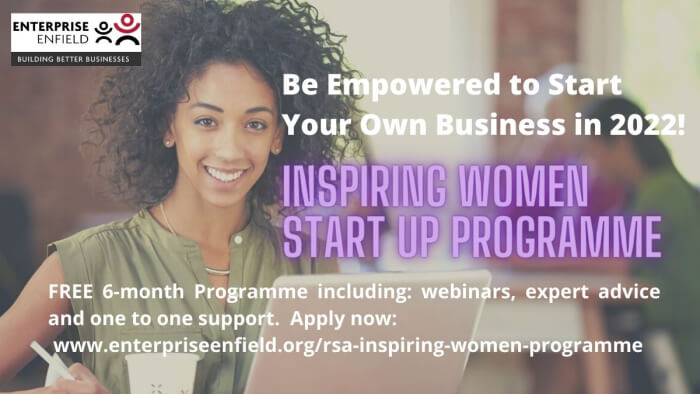 Be empowered to start your own business in 2022 with help and support from Enterprise Enfield's Inspiring Women Start Up Programme starting in February.
The Inspiring Women Programme is FREE and offers a range of webinars, expert advice and one to one support over a 6 month period - specifically designed to guide women through the process of developing a business idea and getting up and running. It's an ideal opportunity to develop business knowledge and skills, boost confidence and get expert support to get a new venture off to the right start. Topics covered in the programme include:
Creating your Business Model
Understanding the Legal requirements of running a business
How to use social media to market your business including videos
Explore costs and expenses and how to make a profit
Building confidence
Your personal and business wellbeing
Applications are now open for the programme - for information and to apply visit www.enterpriseenfield.org/rsa-inspiring-women-programme - deadline 14th February, 10am. All support is FREE of charge as the scheme is sponsored by local charity, the RSA Trust.