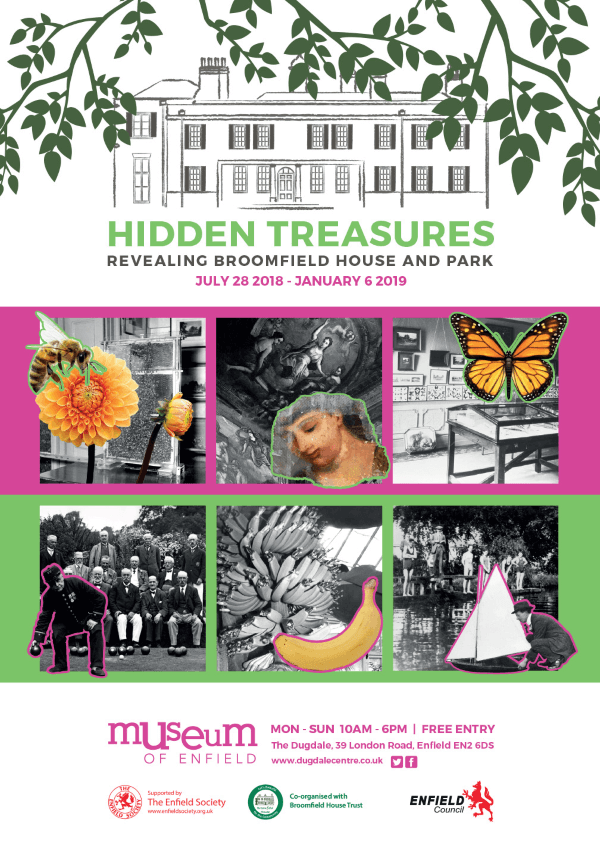 This Saturday sees the launch of the long awaited exhibition about Broomfield House and the surrounding park, organised jointly by Enfield Museum and the Broomfield House Trust with the support of the Enfield Society.  The exhibition, Hidden Treasures - Revealing Broomfield House and Park, runs until 6th January 2019. 
Many local people will remember when Broomfield House was open to the public, some will have taken there to be weighed as babies or visited its museum, art displays and café.  The exhibition's photographs, paintings and objects - salvaged after the fires - will bring back memories.
One of the glories of Broomfield House was its staircase adorned by murals painted by Gerard Lanscroon.  These were rescued from the fire and have been in storage ever since.  The exhibition will include a newly restored section of the murals, depicting the godess Minerva.
There will be an accompanying programme of events, some at the Dugdale, others in Broomfield Park, suitable for all ages from babies upwards, comprising talks on the history of both house and park, craft sessions, an art exhibition, a poetry workshop, guided tours of the park, a children's tree trail, a special halloween event and a "Taste of Broomfield" evening
Exhibition events at the Dugdale Centre
Saturday Arts Club
Pop in to the Museum on the 1st Saturday of the Month and make a simple and quick craft to take home.
Saturday 4th August: Inspired by the Flowers at Broomfield Park
Saturday 1st September: Inspired by the Broomfield Boating Lake
Saturday 6th October: Inspired by the Lanscroon Art Murals
Saturday 3rd November: Inspired by the Gardens at Broomfield
Saturday 1st December: Inspired by Greek Gods and Goddesses
Sessions are: 10.30am-11am, 11am-11.30am, 11.30am-12 noon.
Find out more here
---
Adult Museum Makers
The 1st Monday of every month, 6.30pm-8pm

Suitable for anyone who enjoys making and being creative, no skills necessary! Come and try your hand at new skills and techniques, meet new people and embrace your creative side in a friendly and informal workshop. Advance booking recommended.
Monday 6th August - Book making inspired by the bees of Broomfield.
Monday 3rd September - Origami fabric butterfly brooch inspired by the butterflies of Broomfield museum.
Monday 1st October - A pointillism painting inspired by the boating lake at Broomfield park.
Monday 5th November - A photo montage relief collage inspired by postcards of Broomfield house and park.
Monday 3rd December - A textile colour swatch panel inspired by the Lanscroon murals.
Find out more here:
---
Baby Museum Makers
Every 1st Tuesday of the Month, 10.30am - 11.30am
Join us for a storytelling session and make a simple arts craft to take home, suitable for ages 3-4 years.
4th September 2018 - Inspired by picnics in Broomfield Park
2nd October 2018 - Inspired by the Broomfield Bees
6th November 2018 - Inspired by the Broomfield Art Murals
4th December 2018 - Inspired by the Natural History Collections at Broomfield Museum
Find out more here:
---
Tuesday Talks
Once a month hear free talks from a variety of experts on the history of Broomfield House and Park as well as those who manage Broomfield Park today.
A variety of FREE talks on various aspects of Broomfield House and Park.
Tuesday 21st August: Broomfield Orchard & Conservatory Talk by David
Tuesday 11th September: The Lanscroon Murals at Broomfield House with Dr Mark Banting.
Tuesday 9th October: The Broomfield Bees with Kim Lumley
Tuesday 13th November: The Early History of Broomfield by Ivor Evans
Tuesday 11th December: Traditional woodworking inspired by the Broomfield House Staircase by Ralph Hutchings
Online booking is advised but you can also turn up on the day and get a FREE ticket at box office
Find out more here
---
Half Term Halloween Workshops
Join us in half term to explore the exhibition and make your own Haunted Broomfield House to take home.
Book here
---
Museums at Night - Taste of Broomfield Evening
Join us on Thursday 25th October for a tasting evening of produce made at Broomfield Park or nearby. There will be Halloween activities suitable for all, live music and bar.
Find out more here
---
Poetry Workshop
On Saturday 24th November, join us for an afternoon of poetry workshops inspired by the current exhibition and memories of Broomfield Park and the surrounding area. Delivered by Palmers Green Poetry Group. Find out more here
---
Art Exhibition - Passing Time, Moments in Broomfield, 2nd-27th October 2018
Local artist Patrick Samuel has created a special exhibition inspired by his own interactions with Broomfield Park and the surrounding area. FREE to visit.
Find out more here
---
Advance online bookings recommended for all events include free ones. Book online or pop into the Dugdale Centre to book at Box Office.
Exhibition events in Broomfield Park
Children's Tree Trail
Every Wednesday and Sunday, Broomfield Conservatory will be delivering a free tree trail in Broomfield Park for children.
Find out more here
---
Revealed Tours of Broomfield Park
Join The Broomfield House Trust for a guided walk of Broomfield Park, revealing little known facts about the history of the house and the park.
Dates: 29 August, 17 October, at 1.30pm
Find out more here
---
Meet The Trust
Meet the Broomfield House Trust at the Palmers Green Festival. and discover more about them and learn more about the house and park!
Check the Palmers Green Festival website here for further details, including opening times.
---
 Advance online bookings recommended for all events include free ones. Book online or pop into the Dugdale Centre to book at Box Office.