Roger Blows attended the initial consultation event about plans by Transport for London (TfL) to build housing on both car parks at Arnos Grove station, which was held at Bowes Road Library on 19th June.  He provided the following report back to the Broomfield Home Owners & Residents Association (BHORA) and to PGC.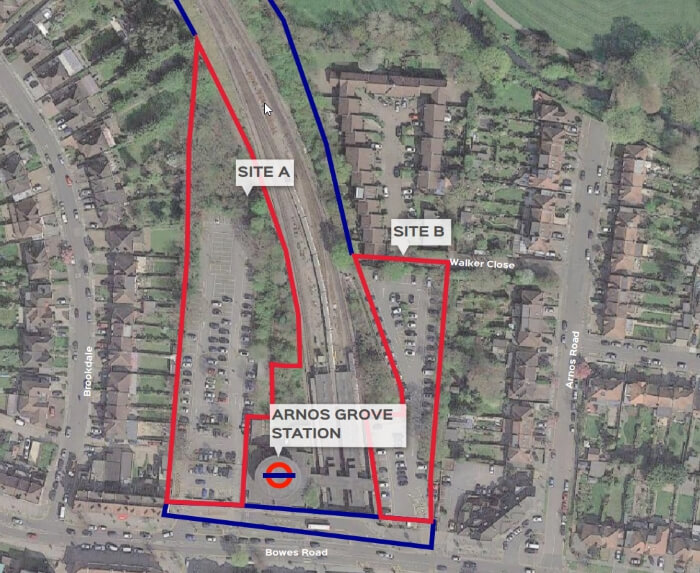 I braved the appropriately wet weather and went to this event this afternoon. There were quite a number of (vocal) people there and very little in the way of detail. I gleaned the following:
This is (I was told) deliberately a preliminary consultation to see how locals react. A further consultation will take place later in the year, supposedly when more flesh will be on the bones.
A similar event was held last night about similar plans for Cockfosters.
Housing comprising 150 units is envisaged for the two Arnos car parks.
The developer is Grainger plc, a long-established builder and rental landlord.
TfL is a not-for-profit organisation and of course the returns from this development will not make a few people very rich but will be ploughed into making public transport even more pleasurable than it currently is.
All units will be rentals with a proportion (40%) reserved for key workers paying affordable rents.
They will be "car free" (i.e. no parking provision) and tenants will not be able to secure off-site parking eligibility.
As for aesthetics, I was assured that heritage sensitivity would be of course paramount, with the listed tube station fully respected. Finding an architect of the quality of Charles Holden (or the recently deceased I. M. Pei) might stretch the budget.
To the West of the station (Site A) a public square is envisaged, so on that side at least the housing blocks of unspecified height will lie some way back from the station building.
Site A stretches downhill and ends in a tree'd area - I was assured that these and other track-side wildlife habitats would not be damaged.
A reorganised set down/cab catching/bus stopping space in front of the station is planned (as is a lift in the station).
The development if it proceeds via planning consent might complete by 2023.
The TfL representative I spoke to made reference to CIL/Section 106 resources perhaps being directed to strengthening the Arnos medical centre.
Feedback via .  See also www.arnosgroveconsultation.com.
Comments noted focused chiefly on the parking issues which BHORA highlighted three or more years ago, but the remorseless march of the district into urban status as distinct from suburban was also a source of grief.
Excerpt from display boards at initial consultation
At Arnos Grove Station Car Parks we believe there is the opportunity to:
Utilise brownfield, public sector land to help deliver around 150 new private and affordable homes for rent;
Preserve and enhance the setting of the Grade II star listed London Underground station;
Through quality design, create a positive relationship between the new development and the local area;
To create a new public square to the immediate west of the station;
To encourage a shift to more sustainable modes of public transport and reduce the need to travel by car in the local area; and
To deliver a car-free development, with the exception of disabled car parking for both station users and new residents.
Links
Arnos Grove consultation home page
Display boards used at meeting
Cockfosters consultation home page