With around seven weeks remaining for residents to provide feedback on the draft Enfield Local Plan, two of the borough's civic groups have joined forces to campaign against the council's proposals to dedesignate several areas of green belt land in the borough to allow their use for large-scale housing developments. A third group says that the draft plan will not solve the borough's chronic shortage of family-sized and affordable homes.
Advice on how to object
The long established Enfield Society and its much younger (and somewhat confusingly named) ally Enfield Road Watch are urging residents to use the current consultation window to signal their disagreement with key sections of the draft. They have jointly produced advice to supporters on how to navigate the long and detailed draft plan document and how to respond in opposition not just to building on green belt, but also to the council's proposed tall buildings policy.
Among their primary concerns are proposals for:
3000 homes at "Chase Park", the new name for open countryside between Trent Park and the Ridgeway, extending both sides of Enfield Road a
3000 new homes at Crews Hill and potentially 7.500 extending all the way to the M25
160 new homes in green belt land at Hadley Wood
Industrial and office development in the green belt near Rammey Marsh in the north east of the borough
They also object to encouragement of tall buildings, including in Enfield Town's Palace Gardens shopping centre.
Chronic overcrowding and unaffordable homes
The draft plan is also being criticised, though from a different perspective, by the campaigning group Better Homes Enfield, whose objective is to end overcrowding and homelessness caused by the chronic shortage of high-quality, suitably sized and affordable housing in the borough. Writing in Enfield Dispatch, Matt Burn says that concerns being voiced by some people about the scale of housebuilding envisaged by the council - 25,000 homes over 20 years - need to be balanced against the acute shortage of affordable housing in Enfield, particularly affordable family housing. According to his calculations, only around 6,500 new housing units are likely to be "affordable" for local people, while the borough currently needs at least 10,000 affordable homes.
Matt Burn argues that the council will fail to achieve its goal of ensuring that people who grew up in the borough will have the opportunity to remain: "some will have to move out, while those who remain will live precariously in housing they struggle to afford or in housing that is too small for them". The blame, he says, can partly be laid at the council's door because it is failing to take advantage of the opportunities created by the Meridian Water redevelopment, while the government bears responsibility for not adequately funding affordable housing:
If there was more government funding, and if the council could make better use of its opportunities, there's a good chance Enfield could build the affordable housing it needs without large-scale development of the Green Belt and without tall tower blocks.

Matt Burn, Enfield Dispatch 12 July 2021
What's in the draft Enfield Local Plan?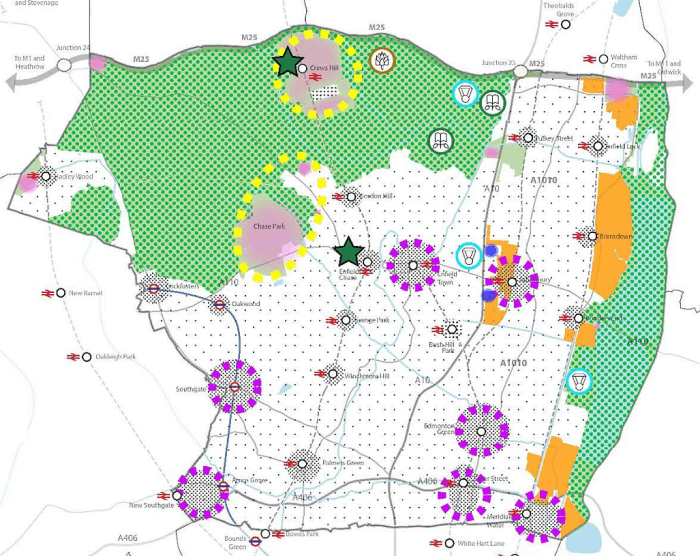 Map showing the "spatial strategy" - the types of development deemed appropriate for particular areas. In two "rural placemaking areas" (ringed in yellow) and seven "urban placemaking areas" (ringed in purple) developments would have to be in line with masterplans drawn up by the council. The grey closely dotted areas (including Palmers Green) are earmarked for "intensification around transport nodes and town centres" (ie housebuilding). Areas of green belt which would be lost to housing or industrial development are shaded pink. (Click on the map to enlarge.)
The document which is currently out for consultation is actually just one of a series which together will comprise the Enfield Local Plan. To quote from official government guidance, "Succinct and up-to-date plans should provide a positive vision for the future of each area and a framework for addressing housing needs and other economic, social and environmental priorities."
The draft document specifies which "sites" should be "allocated" for particular types of use, eg housing, employment, agriculture etc, and also provides guidance as to what forms of development will be considered appropriate and thus are likely to receive planning permission.
The draft defines nine "placemaking areas" identified as suitable for a larger amount of development - two of them in what is currently green belt land, the rest in areas that are already built up. They include the area that is centred around Southgate Circus.
Most of the draft site allocations are in the placemaking areas, but there are other, including some in Palmers Green and Winchmore Hill, primarily supermarkets and surface-level car parks which are classified as suitable for housing or mixed development - the rationale seems to be that large single-storey buildings and extensive car parks are an inefficient use of scarce land, which should preferably be used for multi-storey buildings, eg flats or offices with shops on the ground floor.
The two tables below are taken from the draft. The first shows draft site allocations for housing and indicates the number of housing units, the second also includes sites allocated to other uses - for instance, part of Firs Farm is allocated for a new crematorium.
Links
New Local Plan page on Enfield Council website
Enfield Society draft local plan page
Information on the Enfield Road Watch website
Why this Local Plan won't deliver the housing Enfield needs (Enfield Dispatch 12 July 2021)