What are the Tottenham Hotspur proposals for Whitewebbs Park?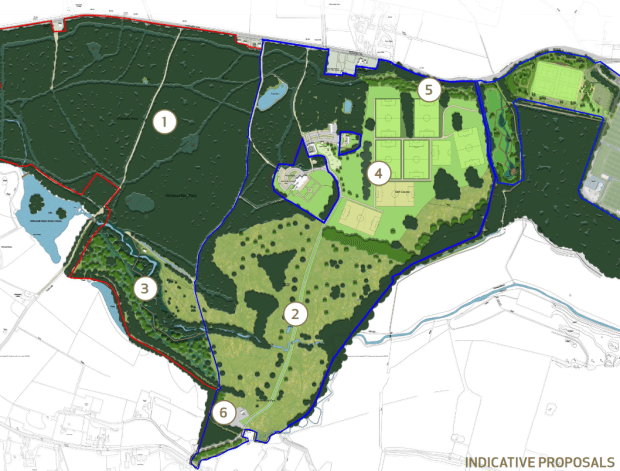 Map showing Tottenham Hotspur's "indicative proposals" for Whitewebbs. The numbers on the map refer to points from publicity issued byTottenham Hotspur and reproduced below.
The Club is proposing to take a lease on part of the site (edged blue), with Whitewebbs Wood being retained in Council control and unchanged (edged red). Subject to further consultation and planning, the proposals include:
1. Ecological and recreational value of Whitewebbs Wood enhanced through public access and landscape improvements
2. Restoration of areas of historic parkland on site of former golf course.
3. Ecological and landscape improvements around Cuffley Brook
4. New Women & Girls' Football Academy centred on Northern Clubhouse and with playing pitches set out amongst ecological and landscape improvements
5. Ecological and landscape improvements to the northern boundary to provide a link into Dickenson's Meadow and the existing Training Centre beyond
6. Redevelopment of Southern Clubhouse to provide new food & beverage/visitor facilities amongst ecological and landscape improvements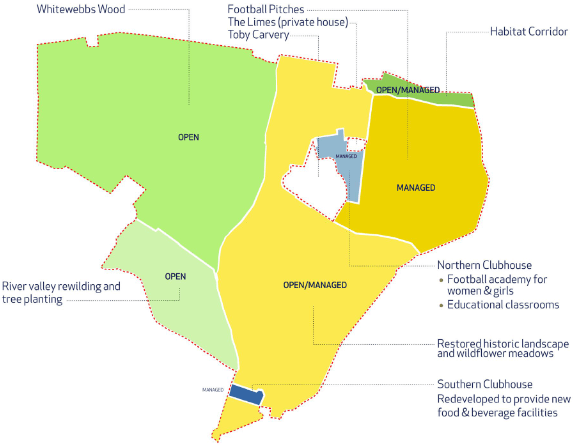 Another map from the Tottenham Hotspur publicity brochure. Here "Open/Managed" appears to denote land under the control of the football club but open to the public, while "Managed" would not be publicly accessible
Source: Whitewebbs Park Golf Course: Summary of Tottenham Hotspur Proposals
Sean Wilkinson of the Friends of Whitewebbs Park said: "The proposed sports academy will primarily be run for the purposes of contributing to the commercial success of the club. It will no longer be a public park. It's that simple. Covid has brought home to all of us how important our open spaces are for the mental and physical well-being of the whole community and Whitewebbs is a busy park every day of the week with people of all ages enjoying space and the natural environment."
Alice Roberts of CPRE London said: "We are extremely concerned that we're seeing threats to parks all over London so we are now helping local groups access legal support to ensure they have the best chance of saving London's parks for generations to come. We are also supporting local campaigners fighting to save Wimbledon Park in Merton, West Ham Park in Newham and Greendale Park in Southwark, for example. It is hard to believe it is often left to local groups to fight these battles but this is unfortunately how it is."