Resignation Richard Mapleston – Chair FLDRA

It is with much regret that I have concluded that I must resign from the Chair of FLDRA and my capacities of Website and Newsletter editor/publisher. This is a decision not taken lightly. For nearly 35 years as a resident I have been a member of FLDRA committees and for the last three years, chair of FLDRA. During my tenure our area has been confronted by serious issues – Quieter Neighbourhoods and now the LTN. And the role of chair has become increasingly challenging. The LTN has not only deeply split residents within the LTN boundary, but significantly impacted residents and businesses outside it. I believe all should be given a say. The FLDRA committee has struggled to take a neutral line to date. But it has become clear that this has become increasingly difficult, not to say impossible. And most recently, opinions expressed within the committee have become rancorous. I therefore feel that I can no longer act as your Chair.
For myself I do not support the LTN, though I understand the views of those who do. Pollution is a problem. I do however support traffic calming. But our streets are part of the common wealth, as our city is a network of interconnected homes, businesses and facilities and much more. But we do not own these streets. I do not believe that we have a right to create what is effectively a private estate. Our enjoyment should not come at significant cost to others. Especially those living and working on and near the boundaries. In ending, I hope that we can resolve the divisions within and beyond the FLDRA community.
I wish you well.
Source: Excerpt from a newsletter sent to FLDRA members on 17 December 2020
Response issued by the Fox Lane LTN Supporters group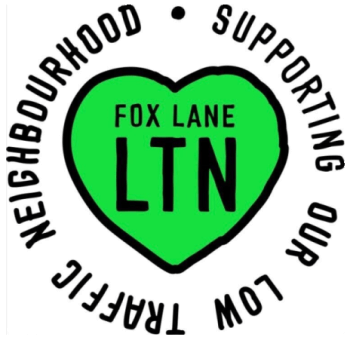 It's always sad when a committed community volunteer stands down and we thank Richard for his work with FLDRA. However we disagree with his views on the Fox Lane Low Traffic Neighbourhood (LTN) trial.
Over the past ten years traffic using the unclassified roads to cut through the neighbourhood has risen dramatically. Once upon a time only 'those in the know' diverted from the surrounding 'A' roads, but use of Waze, Google Maps and other wayfinding apps means many more drivers now divert down the Fox Lane area's unclassified roads to knock a few minutes off their journey time. Indeed since 2009 traffic on unclassified roads in London has increased by 72%, whilst on A roads it has fallen 1% (and of course the vast majority of people live on the former; very few on the latter). These unclassified roads are not designed to handle large volumes of traffic and have become much more dangerous as a result. Driving a mile on a minor urban road is twice as likely to kill or seriously injure a child pedestrian and three times more likely to kill or seriously injure a child cyclist, compared to driving a mile on an A road.
As with similarly affected areas, Fox Lane and its environs had become the antithesis of a 'common wealth' with speeding, polluting, noisy and dangerous through traffic making life very unpleasant for residents and businesses alike. People found it dangerous to cross their road, families with children could not cycle to the park, in summer people slept at the back of their properties in order to sleep, pollution rocketed and those using mobility aids took their life in their hands going to the shops.
Why not traffic calming instead? Numerous attempts at traffic calming have been tried and failed in Fox Lane over the years including street planters to create chicanes, raised tables at junctions and humps in the road. These measures neither reduced the volume of traffic nor reduced speeds.
We are confused by Richard's reference to the creation of a 'private estate'; every street in the Fox Lane LTN is accessible to anyone and everyone in a vehicle – and it's now much easier and safer for people to walk, cycle, wheel and scoot within and through the area. LTNs also help local businesses; 60% of journeys to shops in Enfield are by cycle or walking, so enabling those activities helps retailers. And people who walk or cycle to a high street spend 40% more than those who drive.
If we are to address some of society's key challenges such as climate change, atmospheric and noise pollution, the obesity crisis, the 25,000 traffic-related deaths and serious injuries on UK roads annually and child inactivity then we need to encourage active travel and dissuade people from using cars un-necessarily (one third of London car journeys are under 2km). LTNs are one important method of achieving this goal.
Finally, and perhaps most importantly for the 3000 plus households in the Fox lane neighbourhood, residents love LTNs. In Waltham Forest 44% of residents opposed their LTN at its outset; just 1.7% of residents would scrap the scheme now. The streets in the Fox Lane neighbourhood are now demonstrably quieter, many more children are walking, scooting and cycling to St Monica's School, neighbours stop and chat in the road, cyclists and walkers outnumber vehicles on streets and there was even a Christmas carol concert in one road this month (with the musicians and choir safely positioned behind the new planters and bollard). We need to end high traffic neighbourhoods in Enfield; the Fox Lane LTN is a great step in the right direction.
Fox Lane Low Traffic Neighbourhood supporters
Links
Fox Lane & District Residents Association