Pave The Way: The impact of Low Traffic Neighbourhoods (LTNs) on disabled people, and the future of accessible Active Travel.
Executive Summary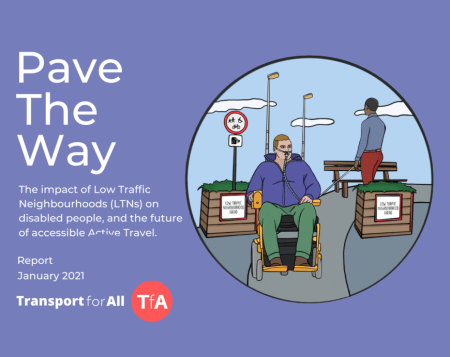 At Transport for All, we fully support the fight for climate justice and the importance of introducing environmental initiatives that promote Active Travel such as walking and cycling. This is particularly important in light of the COVID-19 pandemic, when additional space is needed for safe transit.
However, it has been disappointing to see disabled people and their needs being used by both proponents and critics to further their political aims, with improper research and consultation leading to misinformation and inaccuracies.
One of the most controversial measures aimed at encouraging Active Travel has been Low Traffic Neighbourhoods, using tools such as bollards and cameras to reduce pollution, traffic and road danger in residential areas.
Disabled people hold both positive and negative opinions on LTNs, but they don't feel listened to by policy makers, or that they have opportunities to share their views. COVID-19 compounds this isolation, with many disabled people shielding and/or not accessing streetspaces.
We found failures with the consultation process used to collect resident feedback, as well as with Equality Impact Assessments.
72% of participants reported issues with how changes have been communicated, including the lack of information provided, its quality or accessibility, and not receiving a warning before an LTN is installed.
With this ground-breaking report, we have consulted disabled people directly where many others have failed.
We spoke to 84 disabled people, aged 8 to 89, across a range of impairment groups. Participants were based in 19 out of the 21 London boroughs that have implemented new LTNs, plus five locations outside the capital. Qualitative data was collected using both semi-structured verbal interviews (on video call and by phone) and written questions to ensure accessibility. Responses were then transcribed and coded to produce quantitative data.
In terms of the positive impacts of LTNs, participants reported easier or more pleasant journeys; an increase in independence; a decrease in traffic danger and benefits to physical and mental health.
Criticisms included longer journey times for residents, as well as their visitors who provide care and support. This leads to travel becoming more exhausting, expensive, complicated or difficult. There were also cases of a negative impact on mental health, issues with taxis and a perceived rise in traffic danger.
Though with many disabled people experiencing genuine and meaningful benefits from the LTNs, ripping them out and returning to normal isn't the solution.
'Normal' – what we had before – wasn't accessible enough either.
The answer involves engaging with and listening to the perspectives of disabled people who have been significantly erased from the conversation. Only then can we move forward with accessible and inclusive solutions which benefit everyone, and the environment.
We recommend a series of immediate measures and long-term solutions to address the many barriers that disabled people face to Active Travel; encourage walking, wheeling and cycling; and create an accessible public transport system as a viable alternative to car use.
Links
Fox Lane Area Quieter Neighbourhood: Update 4 March 2021