This piece in praise of the Fox Lane low-traffic neighbourhood was posted on Twitter by Andrew Broadbent, a resident of the Mall, and is reproduced with his permission.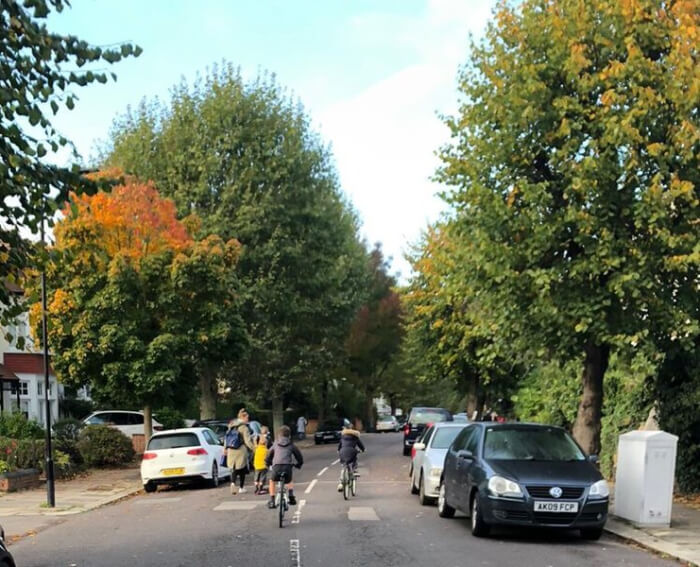 'We really do have a neighbourhood' – the effect of the Fox Lane LTN
A quiet lane, with wandering pedestrians, dogs, cyclists, children on scooters, and the occasional bus and delivery van . This is Fox Lane. It is a dreamlike contrast with what used to be a thundering main road, with several thousand polluting and speeding vehicles every day.
We are liberated. Instead of cowering in our separate, dangerous rat-run streets, we are now a 'neighbourhood'. A daily nature walk, a history walk or jog of discovery is a revelation, as you pass kids and mums and dads scooting, walking or cycling from school.
Woodpeckers echo along the Mall, ducks dabble and herons stalk in Conway pond. We have mapped an 8km circuit to jog, walk or run, touching all 20 or so streets with their 2-3000 houses.
Our own road had some 4000 sat-nav-driven through vehicles a day, with the 30mph limit exceeded, and rattling heavy lorries trundling through. People living 25 miles away, half way to Cambridge used our street as their the quickest route to East Finchley. Rush hour was chaos.
Amazing that a Council-would have the foresight, or expertise to implement such an idea – a 'Low Traffic Neighbourhood', even when backed by the government. Yet, after consultation and modifications, and a 6 month trial, many streets are now accessed from only one end rather than being open at both ends for through traffic.
There is vocal, organised and politicised opposition promoting scare stories against the evidence. They are in favour of through traffic and against 'closing roads'. There has been criminal damage, theft and vandalism to barriers.
The scheme was difficult to contemplate for some people. It could add a few minutes to some local journey times. Were we to become 'closed to outsiders'? There were lurid predictions of grid locked surrounding main roads, and delays to emergency vehicles.
Initial impressions are that much of the through traffic has gone elsewhere – the main roads often seem quieter, as the original 12,000 through vehicles have rerouted, or made different journeys. At times there are still main road queues. There always were – especially when the A406 closes.
Accumulating research, and 'before and after' studies from elsewhere – suggests the scare stories are just that, and that support from residents increases after schemes have bedded in.
Our road was a cart track until 1900. You sense the 1905 vision. 'High Class Villas from £360 easy for the City and the new electric tram'. They were built on the Taylor-Walker country estate.
Some of the original quirky brick patterned front garden walls are still there. The old stocks on the green, the cattle pound at the top of Fox Lane, the huge cedar near the site of the Cullands Grove home of Lord Mayor Sir William Curtis who entertained the Tsar in the 1700's, now all belong to us – within a few minutes stroll , in a way they never did.
For 1500 years the area was entirely rural, with shallow valleys and streams, until from 1700 Southgate became a landowner's enclave – only 8 miles from the City, with half a dozen great houses – a rich man's green belt.
Now we have our neighbourhood back, we can begin to plan to repurpose our shared streetscape, with new planters, 'parklets', benches for socialising, children's play squares, and much more. Liberation indeed.