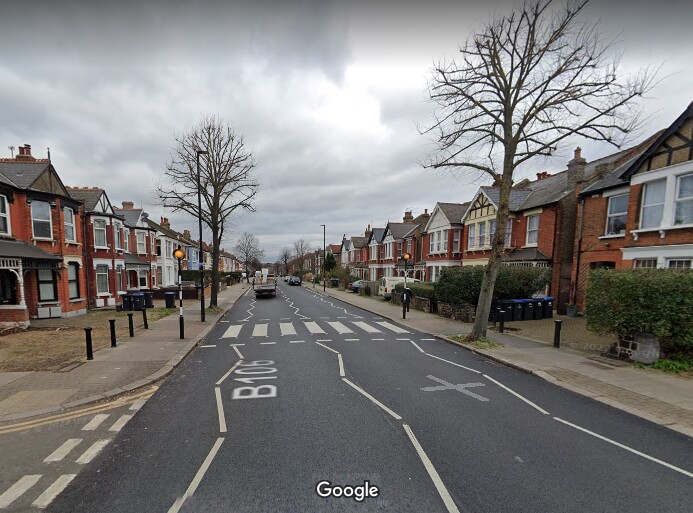 Arrangements for crossing Brownlow Road on foot or by bike between the low-traffic neighbourhoods on either side are currently poor, and this zebra crossing near York Road has a reputation for being unsafe. Two crashes causing serious injuries have been recorded there since 2017.
Enfield Council is seeking residents' views on two projects within the Bowes Primary quieter neighbourhood. One will create a walking and cycling route between the two low-traffic neighbourhoods on either side of Brownlow Road; the other involves creating "a space for people to enjoy" at the junction of Maidstone Road and Warwick Road.
Brownlow Road Walking and Cycling Route
The council has launched an online engagement seeking people's views about current problems and suggestions for improvements in the vicinity of York Road and Goring Road:
Enfield Council is proposing improvements to walking and cycling along a short section of Brownlow Road from Goring Road to York Road. This project is part of the Council's work to enable people to walk, wheel and cycle throughout Enfield including making neighbourhoods safe for all road users, and is being delivered by the Journeys and Places programme (formerly the Healthy Streets programme).

The Brownlow Road Walking and Cycling Route aims to enable more people to travel safely in the area by walking and cycling, and connect to nearby routes in the area.
Though not stated explicitly, the intention is to make it easier, pleasanter and safer for people to move between the low-traffic neighbourhoods on either side of Brownlow Road, which suffers both from queuing traffic at busy periods and serious speeding at quieter times, both of which make crossing the road unpleasant and at times dangerous. The "safe" way to cross is to use the zebra crossing near York Road, but since 2017 two crashes on the crossing have left people seriously injured..
Providing safe crossings for pedestrians, wheelchair users and cyclists will improve journeys between streets to the west of Brownlow Road, where there are few shops, and the Bowes Park area, with its railway station and a variety of businesses in Myddleton Road, which could benefit from increased trade.
At this stage the council has given only general ideas of what interventions might be made and is instead asking residents to point out current problems and suggest potential improvements, using an interactive map on the council's Journeys & Places Hub.
We want to hear from you about your ideas for walking, wheeling and cycling in this area that could be incorporated into our planning for the Brownlow Road Walking and Cycling Route. Please share your ideas for making the area safer for people walking, wheeling and cycling, accessible and enjoyable. Ideas may include more planting, nearby cycle parking or identifying points at which people could cross the road. We'd also like to hear about any issues people face in regard to walking, wheeling and cycling in the area.
Residents have already begun uploading comments using the map, which will be available until midnight on Sunday 2nd April. As well as focussing on localised issues, some have taken the opportunity to express their opposition to low-traffic neighbourhoods in principle, while others have called for the whole length of Brownlow Road itself to be brought into the low-traffic neighbourhood by preventing most car drivers from using it as a through route and installing a "bus gate" - a camera-controlled filter point that only buses and certain categories of driver (eg blue badge holders) would be allowed to drive past.
The amount of through traffic using Brownlow Road has been a contentious issue for many years. It is not suitable as a main road and lengthy queues frequently build up because the lights at the northern end understandably give priority to the North Circular Road, which was built precisely with the intention of taking traffic away from smaller roads. The Bowes LTN, in operation since 2020, has relieved Warwick Road, which runs parallel to Brownlow and was previously totally overrun by traffic cutting through, but Brownlow Road's problems remain unresolved, at least for the time being.
Healthy streets campaigns, including the groups Bounds Green Healthy Streets and Better Streets for Enfield have been calling for the bus gate solution, and it was in fact included as a future option ("Phase 2") when Enfield Council first drew up its proposals for the Bowes Primary Quieter Neighbourhood in 2020. Support for traffic reduction on Brownlow Road has also been forthcoming from Warwick Road Action Group.
Maidstone Road Public Space Improvements
The council sees the area around the modal filters (bollards or cameras) at the junction of Maidstone Road and Warwick Road as a potential site for a pleasant public space:
Enfield Council is proposing improvements to the existing modal filters (planters and cameras) at Maidstone Road and Warwick Road.

It is proposed that the area is developed into a space for people to enjoy, with the possibilities of introducing greenery, rain gardens, trees, seating, and play areas.

We are launching a period of engagement to understand the views, concerns, or suggestions residents and other stakeholders have about the proposed project.

The proposed interventions will:

Create permanent green infrastructure and enhance access to green infrastructure
Improve walking and cycling access to the area
Providing shade in the area.
As with the Brownload Road proposal, the council is using an interactive map for residents to provide comments and suggestions.
Webinar on 20th March
In addition to the information on the website, the council will be hosting a webinar on Microsoft Teams at 6pm on 20th March. A recording will be available to watch online afterwards.
Links to detailed information on the Let's Talk Enfield website