Traffic is holding up emergency vehicles
We all know that the pollution from private cars is shortening lives, but our new research shows that traffic is cutting our lives short in another way.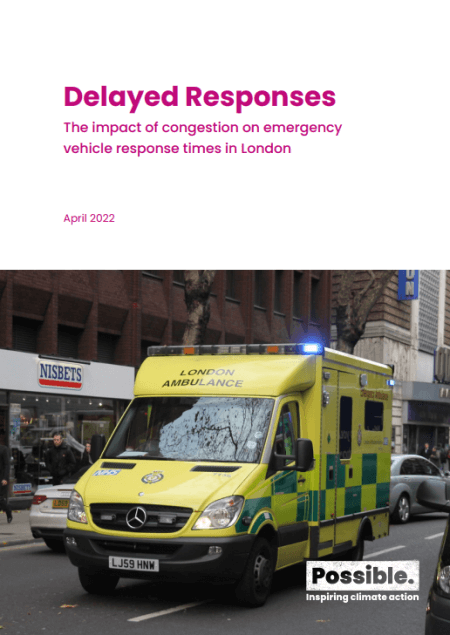 Today, we released our report which finds that excess traffic and congestion is likely to be the most significant contributor to delays in ambulance and fire engine response times in London.
Our report uses data from the time of Covid-19 lockdowns when congestion virtually vanished from London's streets to investigate the impact of road traffic on emergency vehicles response times.
The key message fxxxrom our research suggests that the most impactful improvement to emergency response times could be achieved through measures that reduce overall traffic and congestion, namely, getting more cars off the roads.
Our key findings:
By analysing the data during the first lockdown in 2020, we found that the average response times for 999 calls to the London Fire Brigade dropped dramatically, especially for inner London fire stations who often experience the heaviest congestion levels. Examples include a reduction of 41 seconds in Euston, 57s in Tooting and a massive 1 minute and 31 seconds in Soho.
Importantly, all of the time savings recorded during London's lockdowns were exclusively in travel time. This means that these reductions are directly caused by the fall in congestion levels in this period.
Our report finds that with each percentage point increase in congestion on the roads results in a one second delay to response times!
We found a similar trend in the average response times of the London Ambulance Service. There was a 47 second reduction in response time to the most serious medical emergencies and a much larger drop of 2 minutes and 39 seconds for emergencies where patients were conveyed to hospital via a full-sized ambulance.
Implications of this report:
The traffic-calming measures introduced during the lockdown were accused as being a cause for delays to emergency vehicles. However, research does not support these claims but instead shows that the real problem is excess car use causing traffic and congestion.
Our report makes the case that the most impactful way to improve emergency vehicle response times is to introduce measures that reduce overall congestion levels. When it comes to saving lives, every second counts.
Source: www.wearepossible.org/latest-news/traffic-is-holding-up-emergency-vehicles